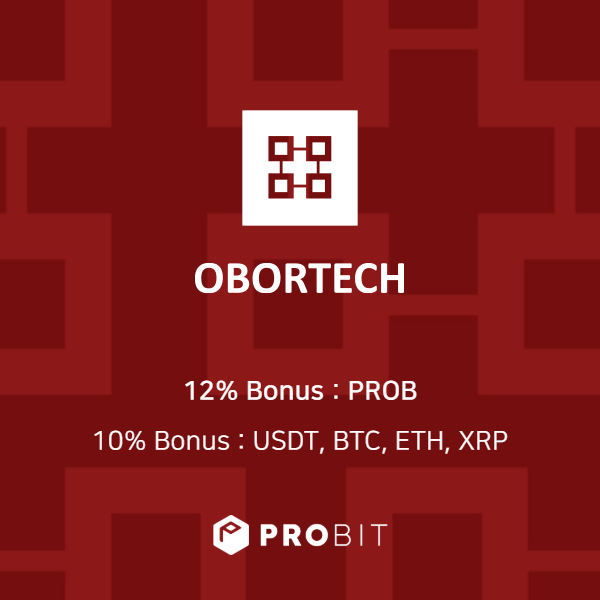 Click here to view the OBOT IEO page
⯈ IEO Duration
24 March 2021, 00:00 UTC to 31 March 2021, 14:00 UTC
⯈ Price
OBOT will be priced at $0.032/OBOT.
⯈ Bonuses
Buy OBOT using PROB, Get 12% Bonus
Users will gain 12% more OBOT by purchasing OBOT through PROB. PROB is the token of ProBit Global, which offers its holders multiple airdrops and benefits.
Buy OBOT using USDT, BTC, ETH, and XRP, Get 10% Bonus
Users will gain 10% more OBOT by purchasing OBOT through USDT, BTC, ETH, and XRP.
⯈ KYC Verification Notice
All participants of OBOT 's token sale are required to complete KYC verification.
About Obortech

⯈ Introduction (www.obortech.io)
Accessible via easy to use web and mobile user interfaces, and an open API, the Smart Hub brings together supply chain actors, and enable their supply chains to share information, collaborate, conduct data analysis, and validate product traceability in real-time on a trusted platform.The Smart Hub allows secure sharing and exchange of documents with supply chain partners using blockchain powered version control. Authorized parties to any shipment can immediately see when changes have been made, and by whom, along a shipment journey.
IoT sensors are installed on containers/trucks and transmit data to the Smart Hub dashboard to track valuable shipments, monitor their key physical measurements, and protect high-value products against theft. A client gets positioning data for shipment in real-time, irrespective of the shipping carrier they choose.
Based on the blockchain based trusted network established among the Smart Hub participants, the marketplace ecosystem will enable verification and scoring of stakeholders in the supply chain without the need for third-party credentials. Moreover, the marketplace is a blockchain based decentralized ecosystem that enables buying, selling and exchanging of services without the need of intermediaries among the users.
⯈Social Media
Linkedin: https://www.linkedin.com/company/obortech
Twitter: https://twitter.com/OBORTECHhub
Blog: https://blog.obortech.io/
Telegram: https://t.me/OBORTECH
Youtube: https://www.youtube.com/channel/UCQxPIavuaCHfdpGsT8_hFkw/featured
⯈OBOT WORLD Press
https://blog.obortech.io/defi-for-digital-supply-chain-57c053d2c3dd
ABOUT PROBIT GLOBAL
ProBit Global is a Top 20 crypto exchange worldwide servicing crypto enthusiasts with unlimited access to trade and buy Bitcoin, Ethereum and 800+ altcoins in 1000+ markets.
PROBIT GLOBAL IS A BRAND TRUSTED BY MILLIONS OF USERS
200,000+ community members
1,000,000+ monthly active users
3,000,000 monthly web visitors
50,000,000 users on partnering aggregators and wallets such as CoinMarketCap
User interface of Multilingual website supporting 46 different languages
Marketing and community support in 11 key languages
Join our active programs and get huge benefits!
ProBit Global: www.probit.com
ProBit Telegram: https://t.me/ProBitGlobalOfficial