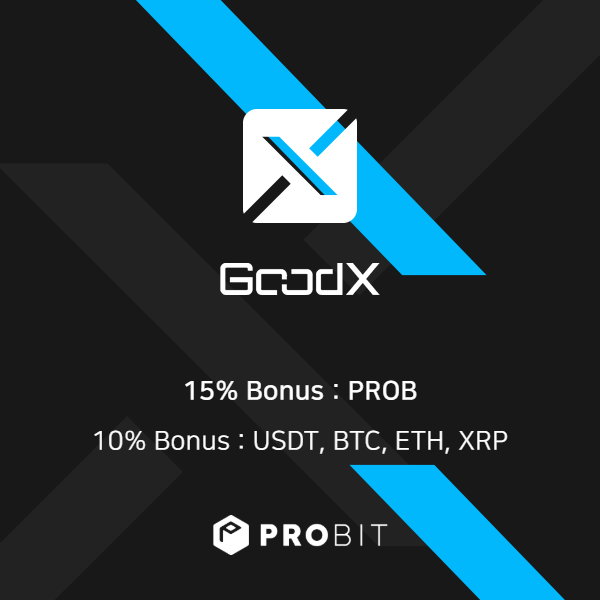 Click here to view the Good X IEO page
⯈ IEO Duration
29 September 2020 (Tuesday), 06:00 UTC to 5 October 2020 (Monday), 14:59 UTC
⯈ Price
OOX will be priced at $0.01/OOX.
⯈ Bonuses
Buy OOX using PROB, Get 15% Bonus
Users will gain 15% more OOX by purchasing OOX through PROB. PROB is the token of ProBit Global, which offers its holders multiple airdrops and benefits.
Buy OOX using USDT, BTC, ETH, and XRP, Get 10% Bonus
Users will gain 10% more OOX by purchasing OOX through USDT, BTC, ETH, and XRP.
⯈ KYC Verification Notice
All participants of GOOD X NETWORK's token sale are required to complete KYC verification.
About GOOD X NETWORK

⯈ Introduction (https://goodx.network/ieo.html)
Good X Network OU created a platform to manage fiat currencies, crypto currency and investment gold for regular consumers. We are offering our users an everyday multi-asset payment solution worldwide. Our company is based in the top European Startup Hubs – Tallinn.
Based on our past experience of operating in the market, accurate financial projections and endless enthusiasm of the entire team, we commit to make Good X Network OU the largest source of liquidity in the world, decentralizing and democratizing access to different types of assets across the globe.
We are entering the market with a unique product and genuinely unlimited potential for scaling that depends only on the volume of liquidity, which is required to provide you with instant conversion between your assets and instant FREE cross-border transfers within Good X Network OU.
⯈Social Media
Telegram: https://t.me/Goodx_Network_Community
Facebook: https://www.facebook.com/GoodXFinanceNetwork
Twitter:https://twitter.com/GoodX_Network
Youtube:https://www.youtube.com/channel/UCe8Hr-y2tVn9-0UbZvevUzw
Instagram:https://www.instagram.com/goodx_network/
Medium: https://medium.com/goodx
⯈GOOD X NETWORK Press
https://medium.com/goodx/is-the-golden-age-of-cash-over-29453380f61d
ABOUT PROBIT GLOBAL
ProBit Global is a Top 20 crypto exchange worldwide servicing crypto enthusiasts with unlimited access to trade and buy Bitcoin, Ethereum and 800+ altcoins in 1000+ markets.
PROBIT GLOBAL IS A BRAND TRUSTED BY MILLIONS OF USERS
200,000+ community members
1,000,000+ monthly active users
3,000,000 monthly web visitors
50,000,000 users on partnering aggregators and wallets such as CoinMarketCap
User interface of Multilingual website supporting 46 different languages
Marketing and community support in 11 key languages
Join our active programs and get huge benefits!
ProBit Global: www.probit.com
ProBit Telegram: https://t.me/ProBitGlobalOfficial