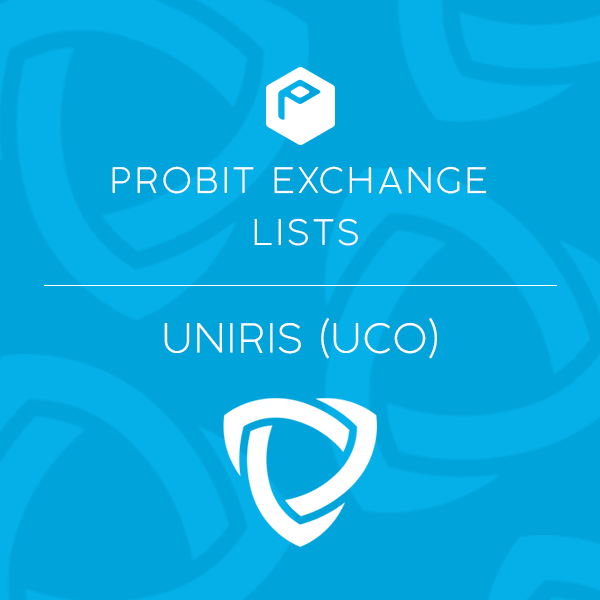 Trading Pairs:

UCO/BTC
UCO/USDT
Deposit: August 31, 2020, 02:00 UTC
Trading: September 1, 2020, 02:00 UTC
About Uniris

⯈ Introduction (https://uniris.io/)
Uniris is disrupting the way people make transactions by removing credit cards, passwords and keys: with a tamper-proof identification system based on the encrypted venous network and a scalable and limitless blockchain, you can access securely any network (payments, IoT, digital IDs, etc.) with the tip of a finger.
Uniris is providing a new consensus called ARCH with a new generation of smart-contracts and native biometric integration.
- Scalability (1 million TPS)
- Security (90% Malicious nodes tolerance)
- Energy consumption (0.42w/transaction which is 3.6 billion time less than BTC)
Pairing our blockchain with an advanced biometric authentication device enables a new era of decentralized identity use-cases.
⯈ Social Media
Telegram:https://t.me/uniris
Twitter: https://twitter.com/unirislife
Facebook: https://www.facebook.com/Uniris-113715793364944
Youtube: https://www.youtube.com/channel/UCmP7Sg_TdBfbO1_u4EyIKzg
⯈ Press
https://hackernoon.com/powering-decentralized-identities-and-access-for-all-ofq3xf4
https://medium.com/uniris/uniris-blockchain-and-biometrics-certified-for-paris-olympic-games-2024-38c39f852420
https://cointelegraph.com/news/self-healing-blockchains-are-cure-for-shardings-scalability-woes
https://journalducoin.com/altcoins/une-revolution-pour-proteger-son-identite-uniris-uco-lance-sa-cryptomonnaie-dans-le-grand-bain/
https://www.incuballiance.fr/uniris-le-nouvel-internet-decentralise-sur-la-blockchain.html
ABOUT PROBIT GLOBAL
ProBit Global is a Top 20 crypto exchange worldwide servicing crypto enthusiasts with unlimited access to trade and buy Bitcoin, Ethereum and 800+ altcoins in 1000+ markets.
PROBIT GLOBAL IS A BRAND TRUSTED BY MILLIONS OF USERS
200,000+ community members
1,000,000+ monthly active users
3,000,000 monthly web visitors
50,000,000 users on partnering aggregators and wallets such as CoinMarketCap
User interface of Multilingual website supporting 46 different languages
Marketing and community support in 11 key languages
Join our active programs and get huge benefits!
ProBit Global: www.probit.com
ProBit Telegram: https://t.me/ProBitGlobalOfficial