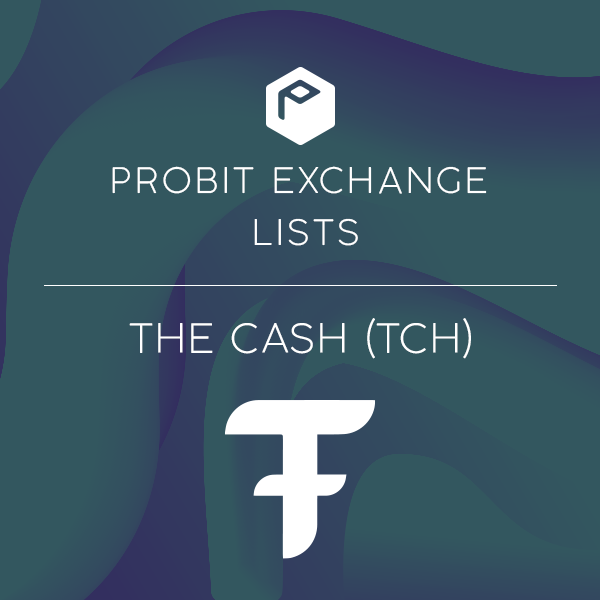 Trading Pairs:
TCH/USDT
Deposit: July 15, 2020, 01:00 UTC
Trading: July 15, 2020, 02:00 UTC
※ProBit Global reserves the final right to make amendments to the dates in this announcement.
About The Cash

⯈ Introduction (https://thecash.asia/)
THE CASH is a master node-based mining coin with a maximum mining supply of 1 billion. The entire distribution and ecosystem are maintained through a burning mechanism, while THE CASH adopts the'seesaw' mining method so that the distribution volume is naturally controlled by supply and demand.
The mining volume for the first level is set at one million per day with 30% increases for each successive stage while the distribution volume is reduced to 1/N depending on the total number of miners.
THE CASH miners can conveniently mine the coins purchased at the exchange through agency contracts with consignment mining agencies and use the master node chain and Ethereum chain simultaneously.
⯈Social Media
Telegram: https://t.me/damda365
ABOUT PROBIT GLOBAL
ProBit Global is a Top 20 crypto exchange worldwide servicing crypto enthusiasts with unlimited access to trade and buy Bitcoin, Ethereum and 800+ altcoins in 1000+ markets.
PROBIT GLOBAL IS A BRAND TRUSTED BY MILLIONS OF USERS
200,000+ community members
1,000,000+ monthly active users
3,000,000 monthly web visitors
50,000,000 users on partnering aggregators and wallets such as CoinMarketCap
User interface of Multilingual website supporting 46 different languages
Marketing and community support in 11 key languages
Join our active programs and get huge benefits!
ProBit Global: www.probit.com
ProBit Telegram: https://t.me/ProBitGlobalOfficial