___________________________________________________________________________
IMPORTANT NOTE (Please read before participating in this airdrop event):
⯈ Why did I not receive my airdrop?
If you did not receive the prizes, it means that one or more of the requirements were incorrectly followed. Please check the possible reasons why you did not receive the airdrop in this FAQ:

https://support.probit.com/hc/en-us/articles/900000675826

Users who submit a customer support request regarding the reward distribution may be disqualified and have their rewards removed.

Please be patient in receiving the rewards.
⯈ Why is phone verification not working?
Depending on your mobile service provider, phone verification may or may not work in the following countries: China, Vietnam, Thailand, Russia, Philippines, India, Egypt, UAE, Saudi, Qatar, Kuwait, Jordan, Belarus.
If you do not receive a phone verification message, it is due to your mobile service provider. Contacting ProBit Global customer support would not improve the situation.
___________________________________________________________________________
⯈ Event Duration
26 May 2020, 06:00 UTC to 01 June 2020, 14:59 UTC
*Reward distribution will be processed within 1 week after IEO conclusion.
⯈ How to Get CDB Airdrop
Complete ANY of the following tasks:
⭐️ TASK #1
Create a new account on ProBit Exchange and complete phone verification.
* Phone verification is not KYC. Users need not conduct KYC to participate.
Reward: 10 CDB tokens
Go to My Page of your ProBit account and click 'Add phone' (see image below).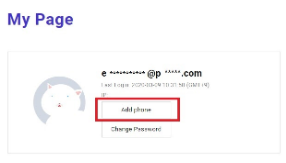 ⭐️ TASK #2

Join Cloudbit Telegram and Follow Cloudbit SNS:
Reward: 10 CDB tokens
⯈ Important Notice
Total Budget for Task #1: 100,000 CDB
Total Budget for Task #2: 100,000 CDB
There is a total maximum cap of 200,000 CDB tokens for the whole event. Those participants who completed the required tasks after the cap has been reached will not be eligible to receive airdrops. An announcement shall be made on ProBit's official Telegram group once the cap has been exceeded.
⯈ Introduction (https://cloudbitex.com/)
Cloudbit Token (CDB) was conceived as a cryptocurrency exchange service and following a huge marketing campaign, it became apparent that there was a fundamental need for global transactions digital tools that could strengthen human relationships and connectivity.
The Cloudbit Token Project provides a transaction system where the number of options available to send cryptocurrencies is nearly infinite. A coin mix which involves anyone who agrees to participate in a transaction anonymity program.
⯈ *Terms and Conditions
ProBit Global reserves the right to disqualify abusive event participants who are engaged in malicious activities such as creating multiple accounts.

ProBit Global reserves the right to halt or discontinue the event with sole discretion.

ProBit Global reserves the right to cancel or amend the event rules with sole discretion.

ProBit Global reserves the right for final interpretation of the results of these events.