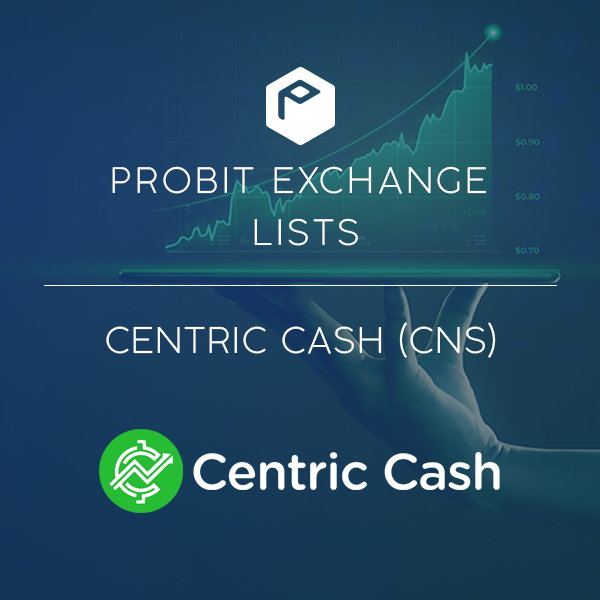 Trading Pairs:
CNS/BTC
CNS/USDT
Deposit: July 27, 2020, 06:00 UTC
Trading: July 28, 2020, 02:00 UTC
About Centric

⯈ Introduction (https://joincentric.com)
Centric is the world's first dual-cryptocurrency payment network engineered to achieve a breakthrough as a reliable form of payment. The first token, Centric Rise, is the network's transactional currency and will steadily increase in price hourly in accordance with immutable price blocks set publicly one year in advance. The second token, Centric Cash, is pegged to the first and will freely trade on major cryptocurrency exchanges.
The exchange between the two tokens is governed by a decentralized protocol that self-regulates token supply to meet ongoing changes in demand and the combination of both tokens offers a reliable store of value and an upside incentive to join the network required for mass-adoption.
⯈ Social Media
Twitter: https://twitter.com/JoinCentricApp
Facebook: https://www.facebook.com/JoinCentric
Youtube: https://youtu.be/nBulaR-CwJE
⯈ Press
https://www.yahoo.com/news/centric-launches-dual-token-economic-042000300.html
https://startupfortune.com/centric-announces-launch-with-a-new-dual-economic-model-to-help-drive-blockchain-mass-adoption/
https://www.coinspeaker.com/centric-launches-new-dual-token-economic-model/
ABOUT PROBIT GLOBAL
ProBit Global is a Top 20 crypto exchange worldwide servicing crypto enthusiasts with unlimited access to trade and buy Bitcoin, Ethereum and 800+ altcoins in 1000+ markets.
PROBIT GLOBAL IS A BRAND TRUSTED BY MILLIONS OF USERS
200,000+ community members
1,000,000+ monthly active users
3,000,000 monthly web visitors
50,000,000 users on partnering aggregators and wallets such as CoinMarketCap
User interface of Multilingual website supporting 46 different languages
Marketing and community support in 11 key languages
Join our active programs and get huge benefits!
ProBit Global: www.probit.com
ProBit Telegram: https://t.me/ProBitGlobalOfficial