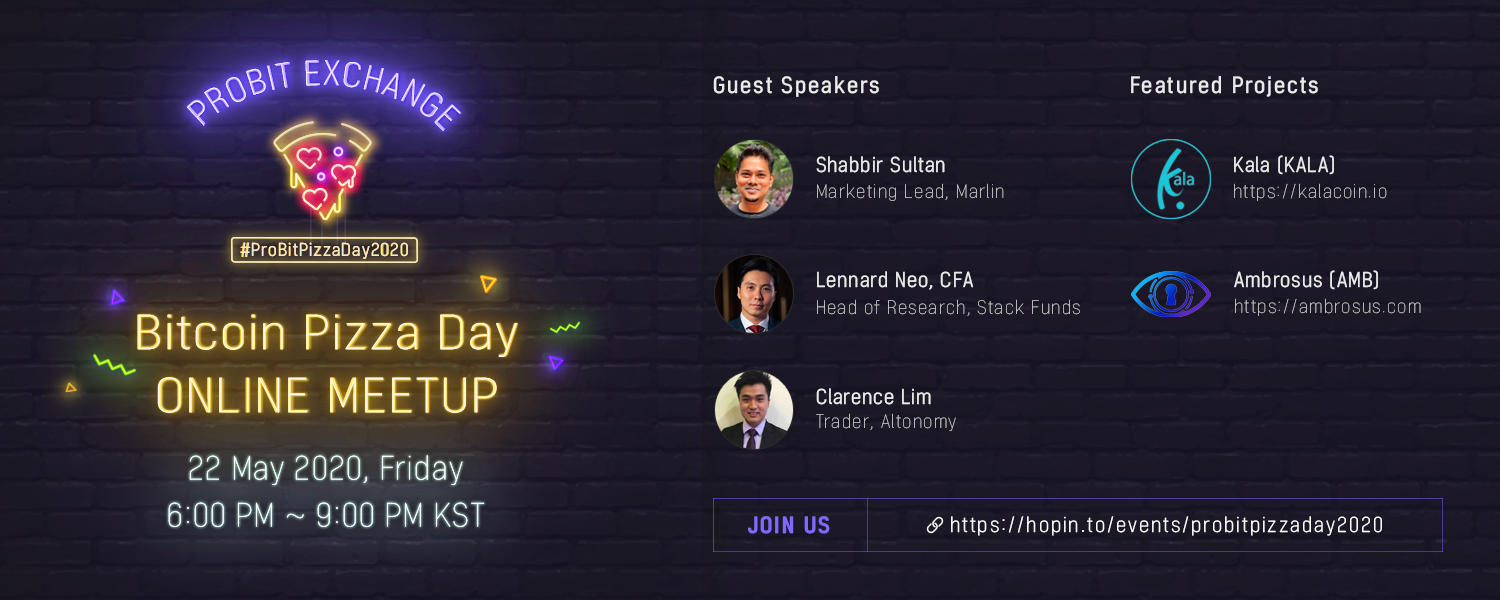 ProBit Global will be hosting our first-ever virtual meetup on Bitcoin Pizza Day 2020! Now that BTC Halving is over, join us as we discuss what's next for Bitcoin and network with other crypto fans while eating your favorite pizza.
Date: 22 May 2020, Friday
Time: 09:00 UTC to 12:00 UTC
Join the online meetup through this link: https://hopin.to/events/probitpizzaday2020
Important: Please prepare the following before the event:
💰 Sign up Airdrop
The first 2,500 users who signed up at ProBit and filled out the attendance form from 08:30 to 13:30 UTC on May 22, 2020 will receive an airdrop of 10 DAWN tokens!
Programme
Host: Shuykova Taisiya, ProBit Partnerships
1. ProBit Global Presentation (09:00 UTC - 09:30 UTC)
ProBit Global CEO, Ronald Chan will discuss key figures and accomplishments, new updates and future plans of ProBit.
2. Bitcoin Post-Halving Panel Discussion (09:30 UTC - 10:00 UTC)
How was this halving different from previous halvings?

How has the global pandemic affected this halving?

When will Bitcoin's post-halving peak price come?

How high will Bitcoin's next price peak be? What will be the new floor?

To what extent is Bitcoin's price driven by supply-side economics?

Does Bitcoin halving have an impact on other cryptocurrencies?

How can retail investors make the most out of this rare halving event?
Participants:
3. Project Presentation (10:00 UTC - 10:30 UTC)
Get to know some of the newest projects at ProBit!
4. Pizza Mukbang AMA: Win Prizes in USDT! (10:30 UTC - 11:30 UTC)
Live ProBit Pizza Mukbang AMA
Watch ProBit Mukbang stars Esmond Hwee, Yonas Stefen, Jessica "Nairobi" Mayara (from Money Heist) and Cicy Lin finish the biggest pizza in Seoul while discussing the latest updates on ProBit Global!
Comment / Ask a Question / Make a Request & Win 20 USDT
You may comment, ask a question or request an action (e.g. finish it in one bite!) via the Chat Box to our Mukbang stars while they are eating pizza. We will choose the 12 best comments/questions/requests to win 20 USDT each!
Answer a Question & Win 20 USDT
While eating, our team members will also ask 20 questions about ProBit and the first participant who answers the question correctly in the Chat Box shall win 20 USDT each!
5. Networking (11:30 UTC onwards)
Connect with other ProBit fans and crypto traders in our exclusive "chat roulette" style networking session!
Let's get this party started! Hope to see you there! 🥳