Check ProBIt Global's Youtube Channel for the latest guides here: https://www.youtube.com/channel/UCXTtmdPZyEQMXBWZligPFeQ/featured
Contents:
A. Go to https://www.probit.com/en-us/ and click "Register"

B. Fill in the form, check the box and click "REGISTER"

C. A pop-up will open. Check the box where it says "I'm not a robot"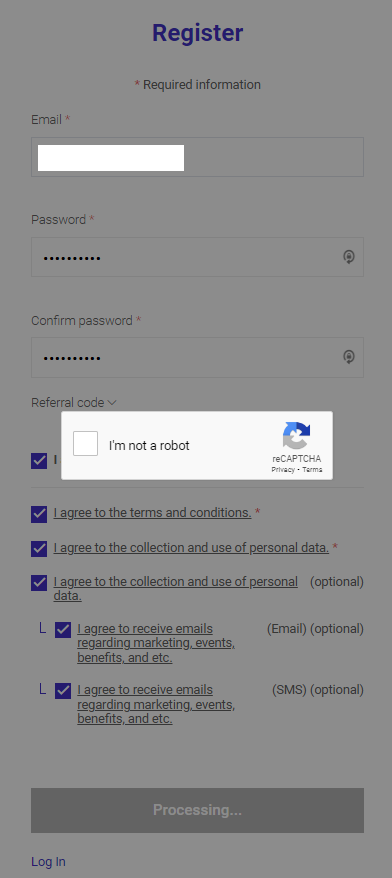 D. Check your email. A verification code will be sent. Copy and paste the code, click "VERIFY" to proceed.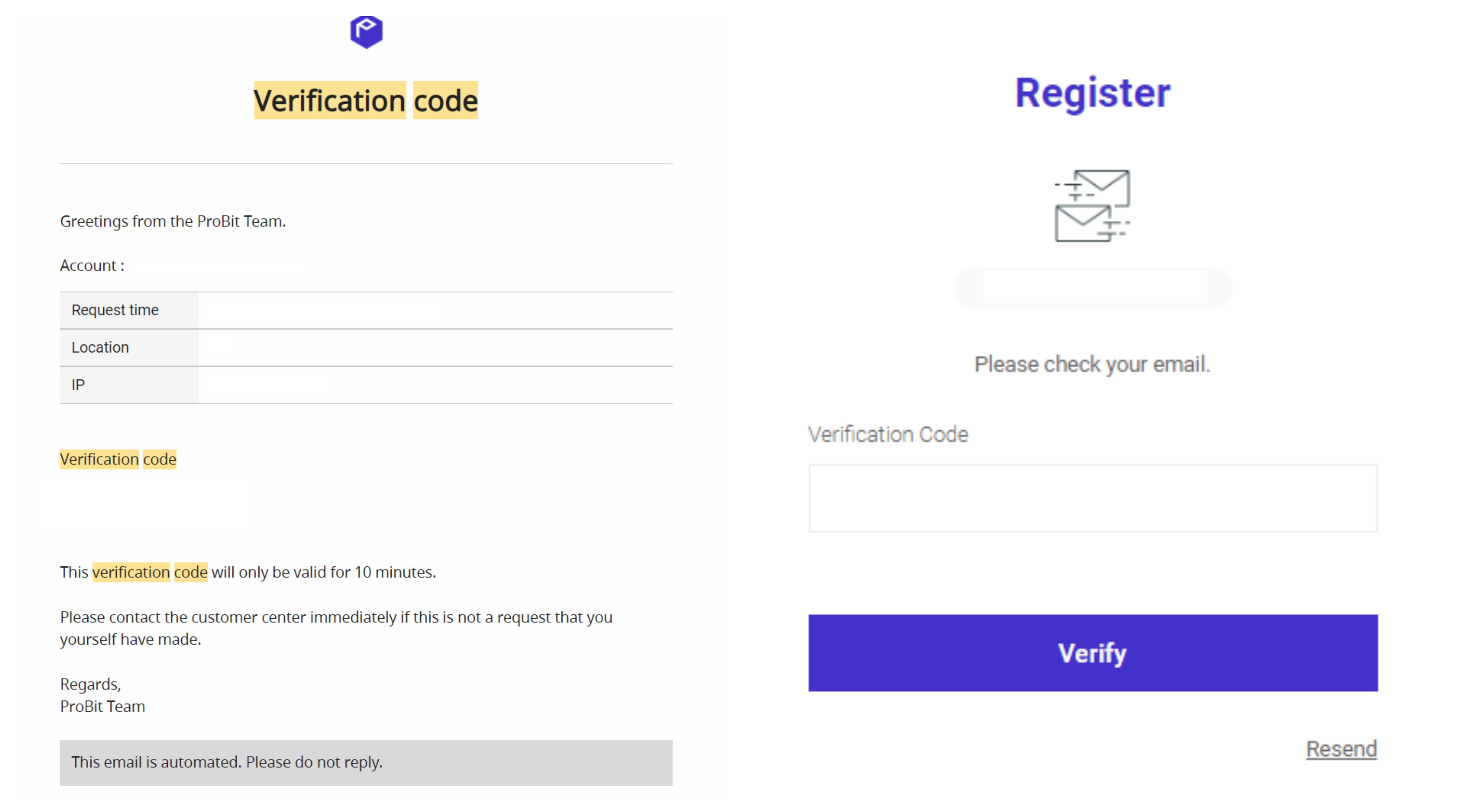 E. Click "GO TO LOGIN PAGE" to continue. Enter your email, password and click "LOG IN". Once again, check "I'm not a robot" to proceed.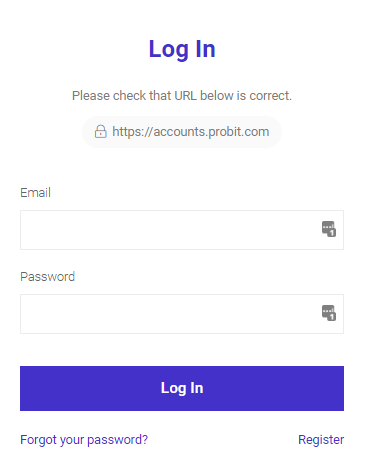 You are now on your ProBit Global account page "MY PAGE", and can complete a KYC ("Know Your Customer") verification process to unlock further exchange features as a STEP 2 user including: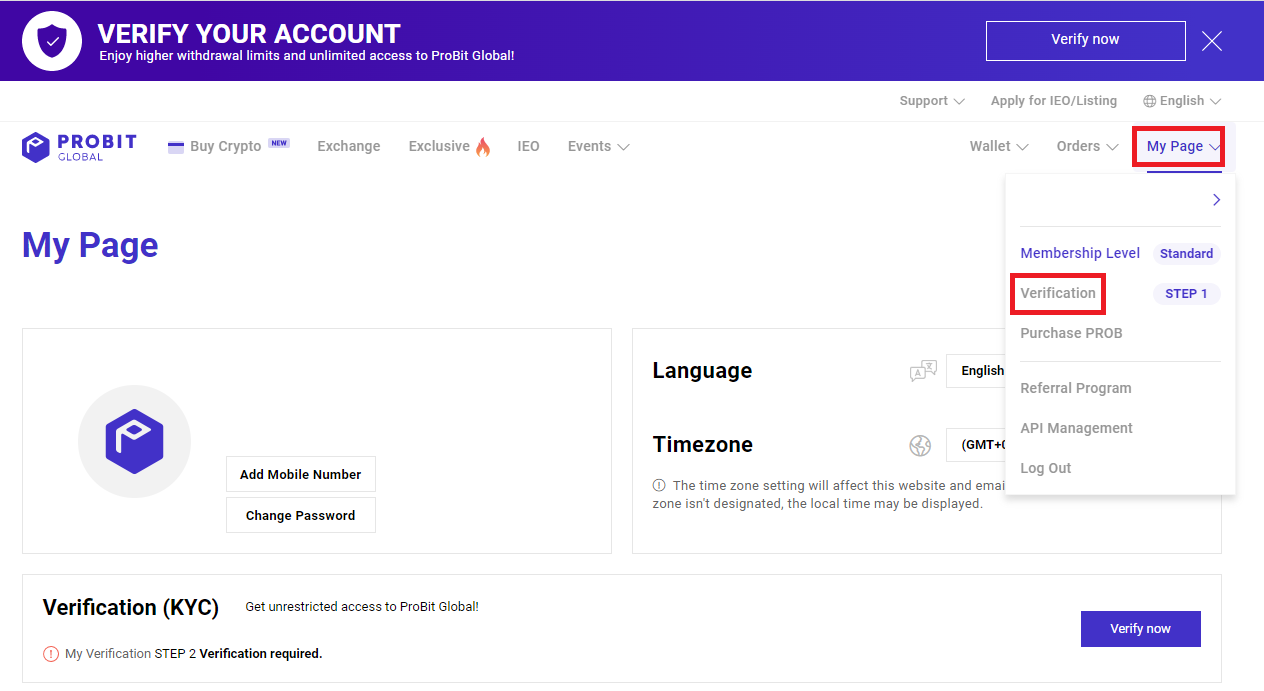 To start the process, click on "Verification" and refer to our guide on KYC verification here: https://support.probit.com/hc/en-us/articles/900000911346
ProBit Global uses the following quote currencies: BTC, ETH, and USDT. You will need to deposit funds into your ProBit Global account in order to trade.
Users can buy crypto with a credit card or bank transfer after which purchased crypto will automatically be sent to your ProBit Global wallet.
You can view a full list of supported fiat

here

.
A. At the top of the navigation bar, click "WALLET" and "BALANCE" to access your wallet on ProBit Global

B. In the "BALANCE" section, you will see details of your balance for every coin available for deposits on ProBit Global. You will also see options "DEPOSIT" and "WITHDRAWAL" for each coin.
*Note that some tokens will also have buy and stake buttons.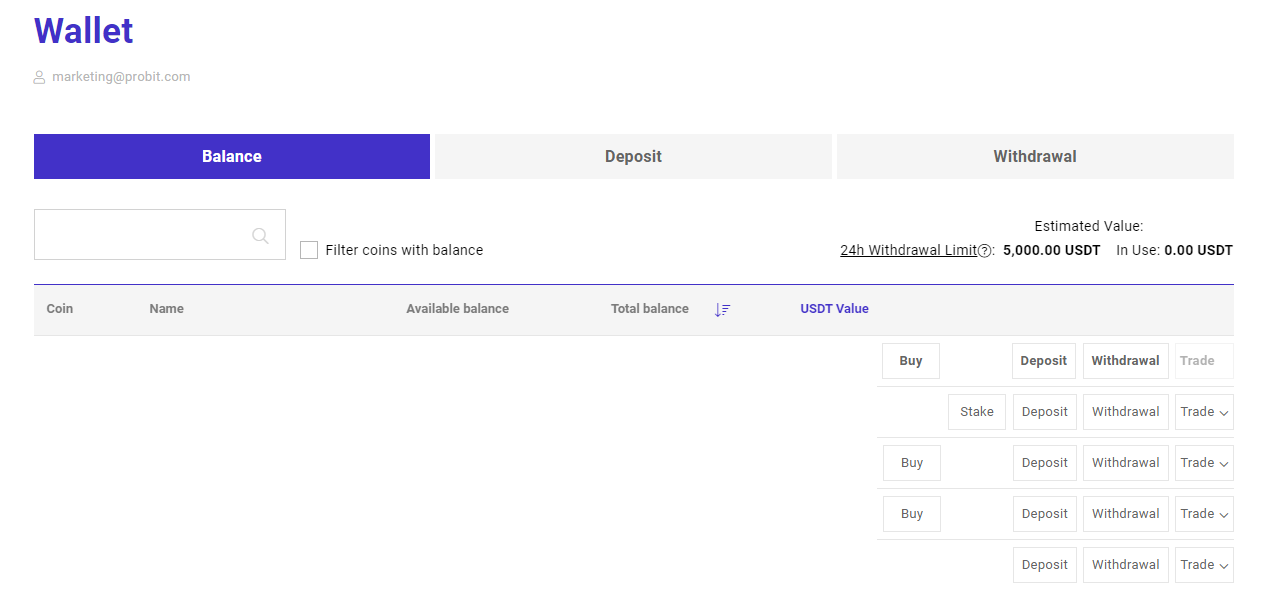 C. Proceed to "DEPOSIT". Type in the name or symbol, e.g. ETH or BTC of your preferred token you want to deposit. Read the notes in the box labeled "IMPORTANT". Copy the "Deposit Address" or scan the QR code on the right side of your screen.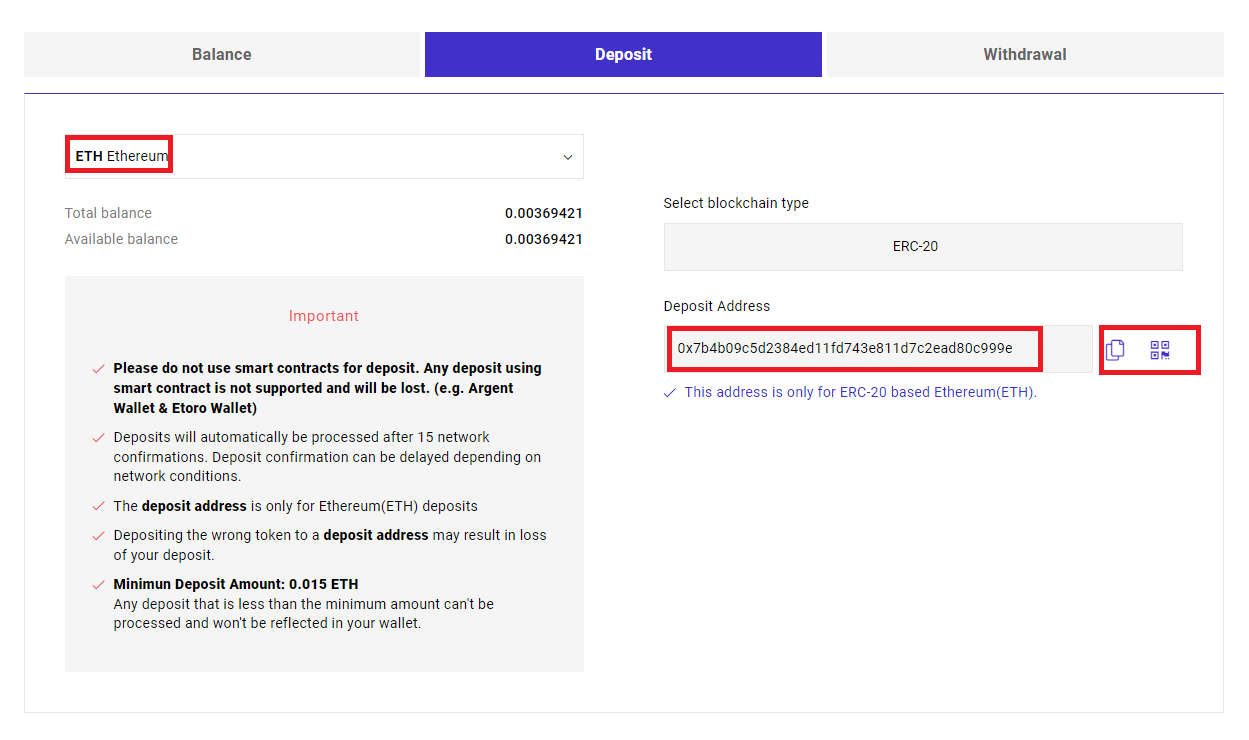 *You can also click on the Copy icon to get your deposit address or the QR code icon to scan the QR code.

D. Go to your cryptocurrency wallet or exchange from which you want to send ETH or BTC. Initiate a "Send" or "Transfer" to the ProBit Global Deposit Address you copied in STEP C.
*Make sure to send a small test transaction first (e.g 0.01 ETH or 0.001 BTC) to ensure that the deposit succeeds before sending the full amount.
*IMPORTANT NOTE: Each asset on ProBit Global (ETH, BTC, USDT, etc.) has its OWN and INDEPENDENT deposit address.
For example, if you are sending BTC to ProBit Global, make sure to use the BTC deposit address.

If you are sending ETH to ProBit Global, use the ETH deposit address.

Please be sure you have the correct address before executing the deposit. If you enter the wrong address, your funds will be lost.
Example: Sending BTC from Coinbase to ProBit Global BTC deposit address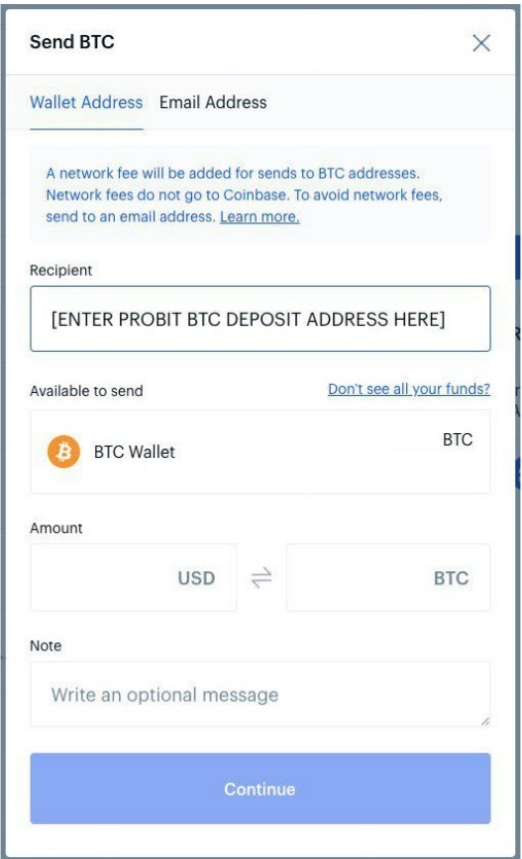 E. Back in your ProBit Global account, go to "WALLET" on top of your navigation bar, and click "Transaction history". The transfer will appear as "CONFIRMING" until processed, and finally show in the relevant balance section below.

A. Once you have deposited sufficient funds into your account to start trading, click "EXCHANGE".

B. You will be directed to the exchange. Take a few minutes to get familiar with the interface of the ProBit Global trading platform.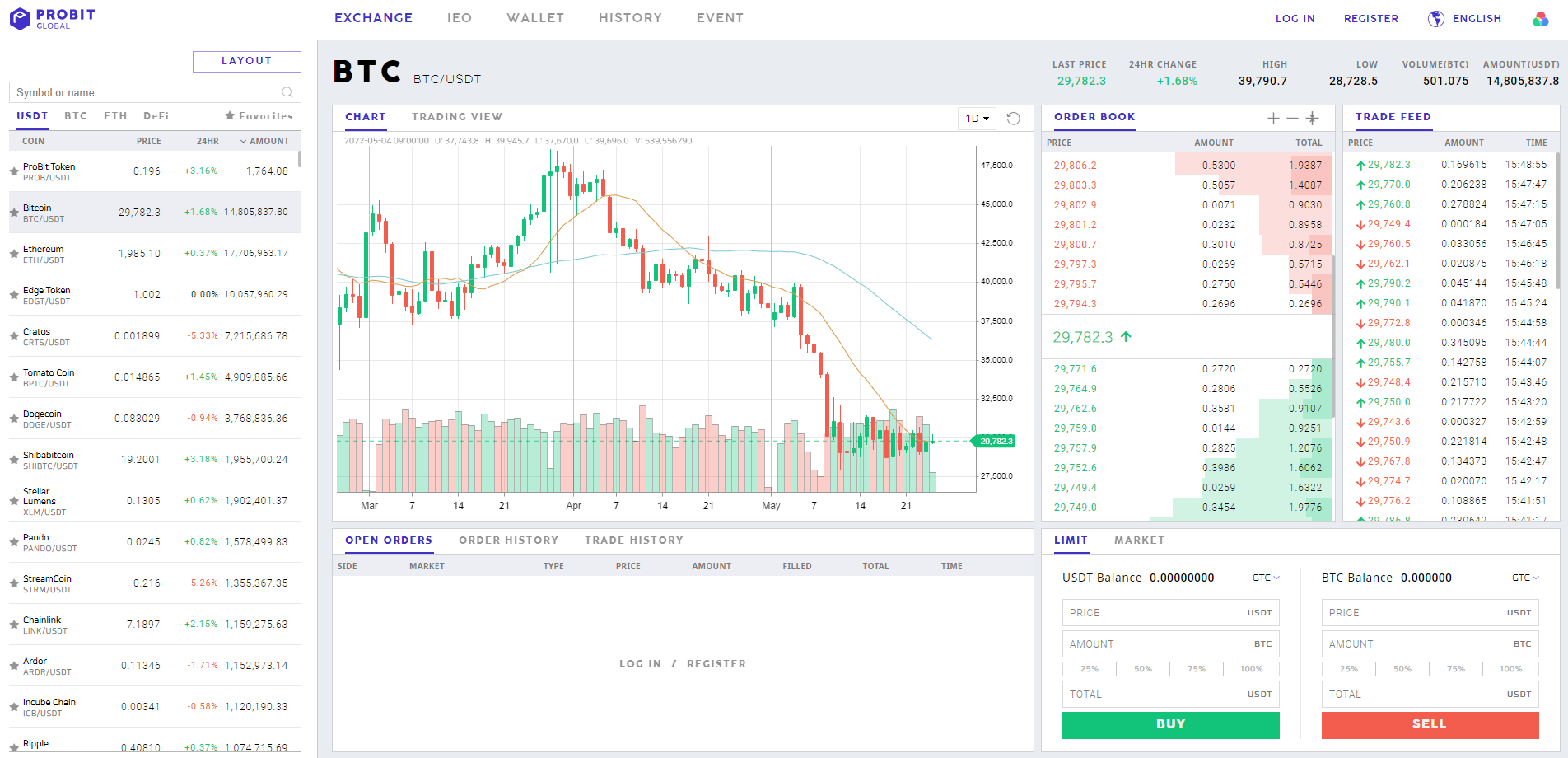 C. On the left-hand side of the interface you can see all available markets with their trading pairs. In the middle of your screen is the price chart for the selected trading pair. On the right-hand side, below the "ORDER BOOK" and "TRADE FEED" is the order execution section, "BUY" and "SELL", where you can execute trades.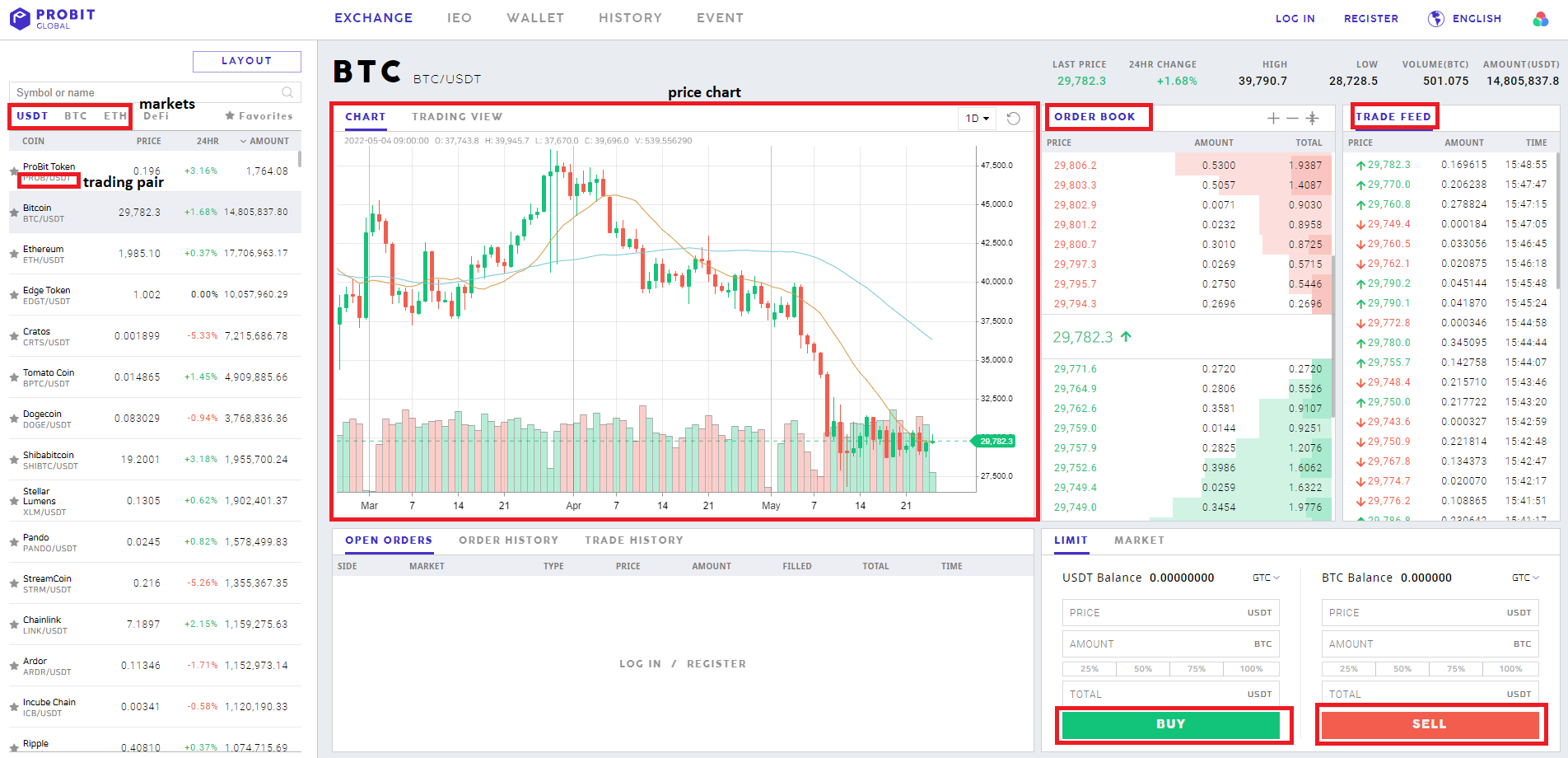 D. For example, if you want to trade the ProBit Token (PROB), search "PROB" or "ProBit Token" in the input field of the market section on the left side of your screen. The price chart will switch to the trading pair PROB/BTC. Go to the order execution section. By default, "LIMIT" is selected.

E. Next to where it says "BTC Balance" of the BUY section and "PROB Balance" of the SELL section you can see "GTC" and a small arrow pointing down. When you click that, a drop down menu will open up with four types of limit orders as listed below. Prior to initiating any of these orders, you should have an understanding of each type of order.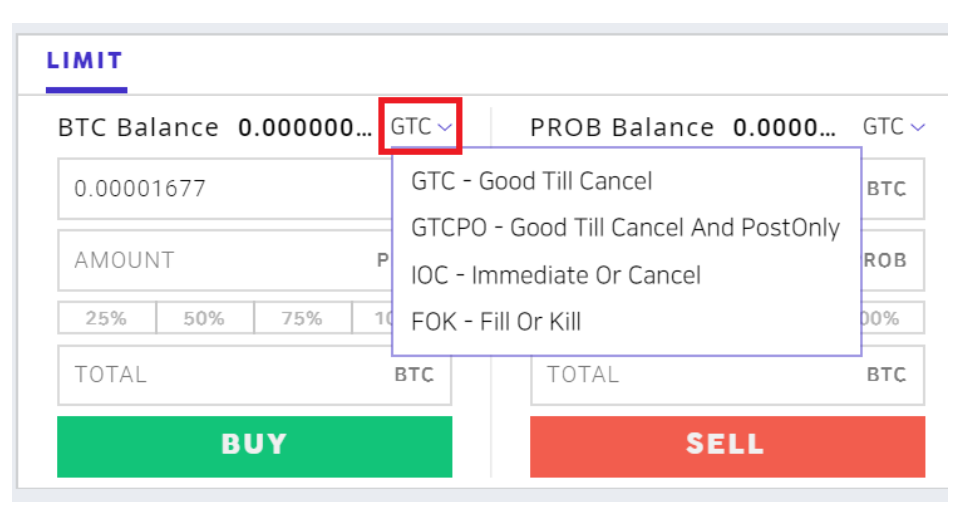 F. Enter or adjust the price to execute in BTC, and the amount of PROB to buy. The total amount of BTC or USDT to trade will be calculated automatically. Click the BUY button to place your order.
In this example, we entered a limit order to buy 100 PROB at a price of 0.00001042 BTC per PROB.
The total cost of the order is 0.001042 BTC.

Alternatively, you may click on the price you would like to transact on in the order book for it to be automatically reflected as your limit order price & volume.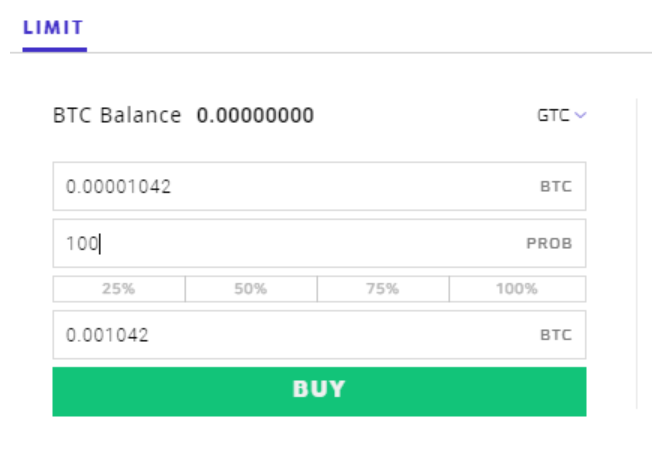 G. Once your order has been placed you will automatically receive updates about your order on the bottom of the left-hand side of the interface. When making a buy order, the price has to match the sell order book orders, and vice versa.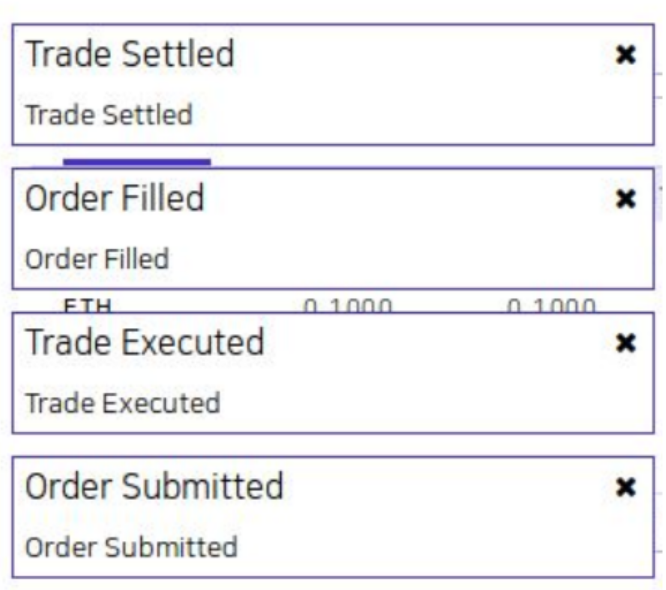 H. Your order will appear in "OPEN ORDERS" or "ORDER HISTORY" below the order execution section, depending on order status.
Congratulations! You've executed a trade on ProBit Global.
Once you are finished trading, you may want to consider withdrawing your tokens to your own personal wallet. This is not compulsory. You may keep your tokens in ProBit Global for free, forever.
A. To begin the withdrawal process, click on "BALANCE", type in PROB in the input field to see your PROB balance.

B. To withdraw your PROB, click on "WITHDRAWAL".
C. Next, log into your receiving wallet (e.g. MyEtherWallet or another exchange's) and copy the receiving token wallet address into ProBit Global. Enter the amount of tokens you want to send.
*Refer here for minimum withdrawal amounts and fees.
*IMPORTANT NOTE: Ensure that your wallet address is correct to prevent the loss of your tokens. Do a test transaction with a small amount first.
D. Press "Withdraw". To finalize the withdrawal, you need to enter a verification code which will be sent to your email address. Copy and paste it to approve the transaction.
E. Your withdrawal will be confirmed as follows. Go to your receiving wallet to make sure that your token arrived safely.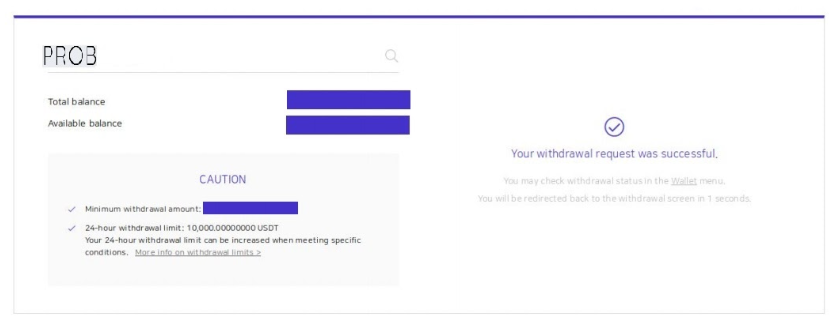 Your PROB is now safely stored in your wallet!
A. Complete KYC.
B. Log in and check the main IEO page to locate the specific IEO you are interested in joining.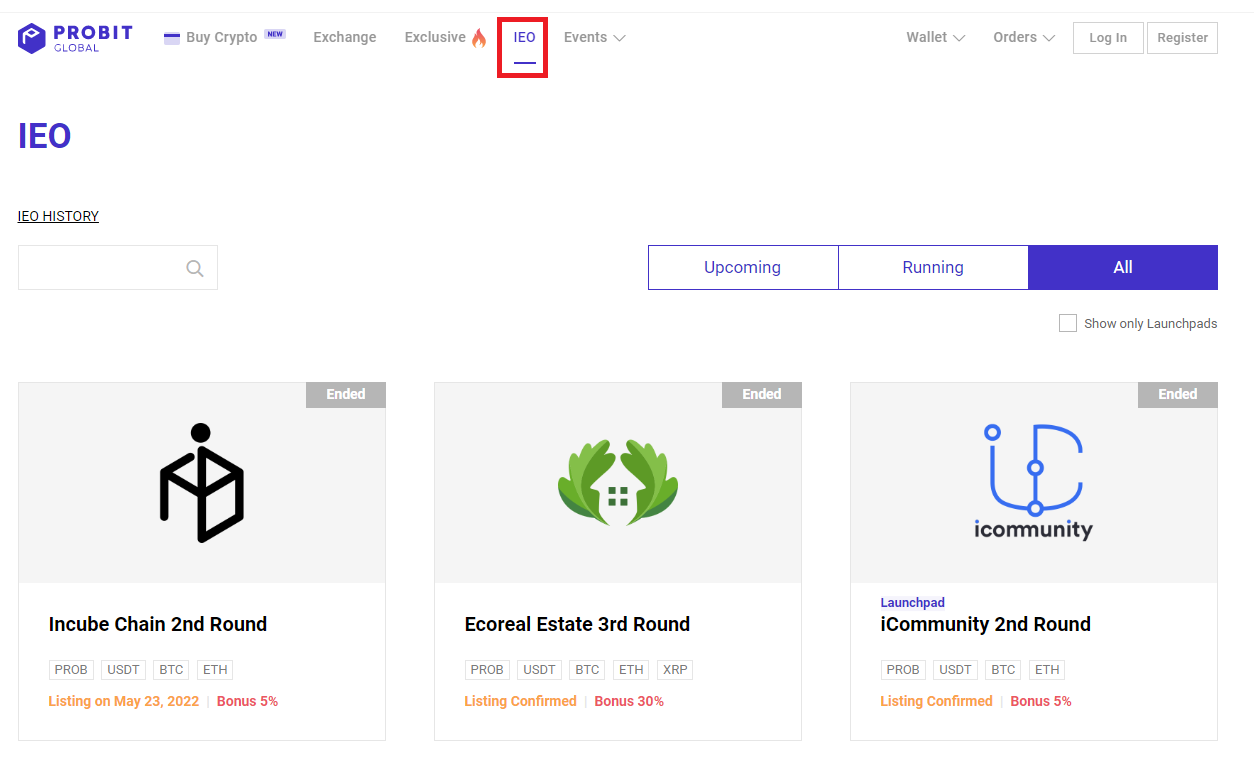 C. The list of accepted currencies will be displayed among PROB, BTC, USDT ETH, and XRP along with associated bonuses. You can also use the calculator to see detailed information including the specific amount of bonus tokens that will be rewarded as well as the total price for a specific purchase amount.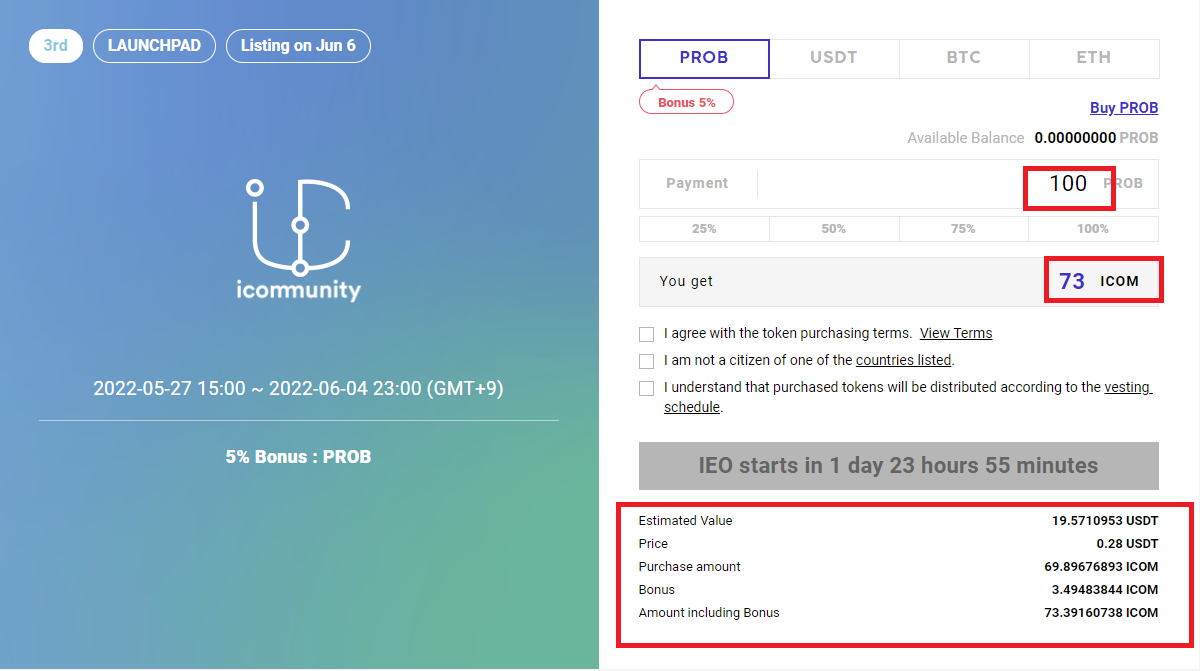 D. If needed, deposit the specific currency you wish to purchase with (refer to STEP 3. DEPOSIT FUNDS TO PROBIT GLOBAL)
E. Once the IEO page is live, enter the amount you wish to purchase and click on Buy to proceed.
F. Your IEO balance will be displayed on the page after your purchase is complete.
G. Please refer to token vesting details for information regarding IEO token distribution schedule.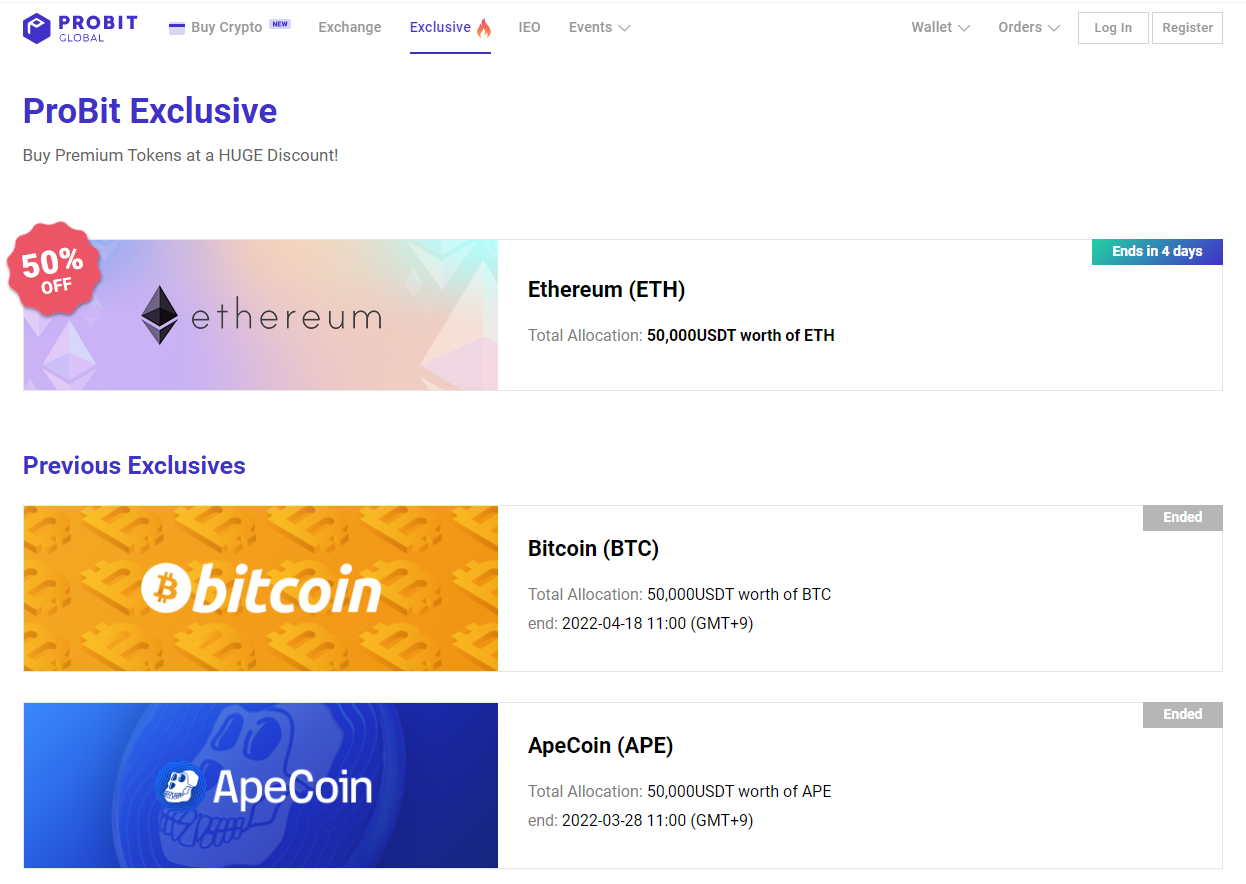 Refer to our guide here on how to get 50% off top 200 tokens during ProBit Exclusives.