Before reading any further, please be sure to adhere to the following steps as they are essential for securing your account from unauthorized access.
Never share confidential information including account passwords and email or wallet addresses.

Double-check all addresses before sending or receiving cryptocurrency.

Setup 2FA

on your account using an app like

Google Authenticator

.

Set up 2FA on all your frequently used accounts including social media for another layer of security.
General guidelines on securing your account
Please refer here if you sent a transaction incorrectly
While ProBit Global secures all your assets safely with 95% stored on cold wallets, you can also opt for one of the many hardware wallets that provide another robust layer of security for your crypto.
When using a private wallet: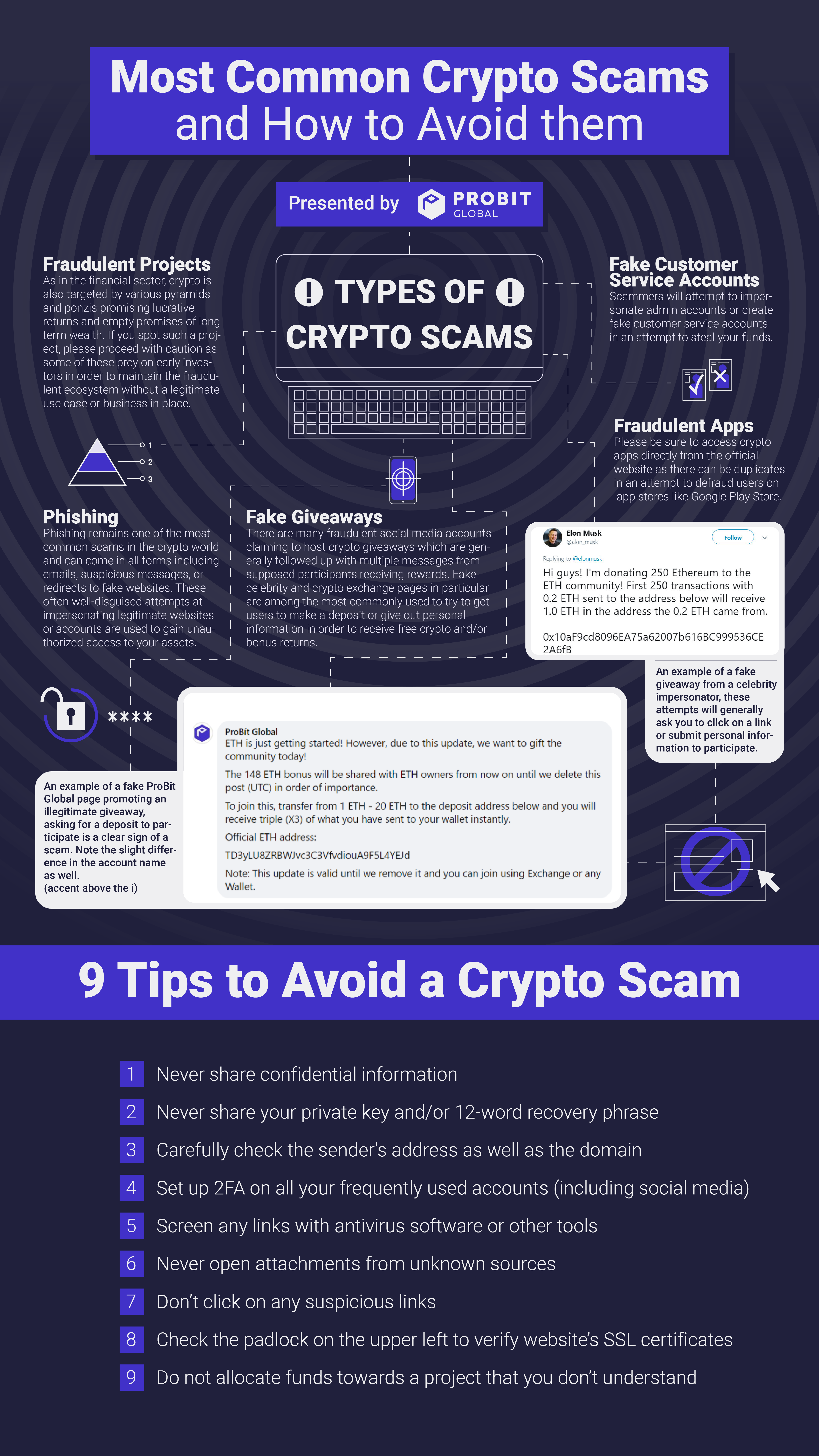 Types of Crypto Scams
Please be on the lookout for the most common scams below, an easy way to avoid them is to never share confidential information with an unauthorized person.
Fake Customer Service Telegram Accounts
Please note that ProBit Global does not have any official customer service accounts on Telegram nor will our admins ever send you a message directly.
When accessing ProBit Global Telegram please be sure to carefully check the official admin id list as scammers will attempt to impersonate admin accounts or create fake customer service accounts in an attempt to steal your funds.
Here are some telltale signs to spot a potential scammer on Telegram
Asks for a refundable deposit to recover or process a transaction

Messages you directly asking if you need help or have been assisted

Telegram handle is slightly different than an official admin such as a different letter or number (e.g. Admin_ProBit vs. Admin1_ProBit)

Telegram ID is under the bio section, official admins will have their ID displayed under user name

Claims to be from customer service

Asks you to click on a link to proceed with customer support

Asks you for your password or any other personal information



Please refer here for a list of official ProBit Telegram Channels:
Fake Social Media Giveaways
ProBit Global will run giveaways and airdrops for our users occasionally, you can refer to a previous giveaway on our Twitter page here: https://twitter.com/ProBit_Exchange/status/1414771129449730053
However, there are many fraudulent social media accounts claiming to host crypto giveaways which are generally followed up with multiple messages from supposed participants receiving rewards.
Fake celebrity and crypto exchange pages in particular are among the most commonly used to try to get users to make a deposit or give out personal information in order to receive free crypto and/or bonus returns.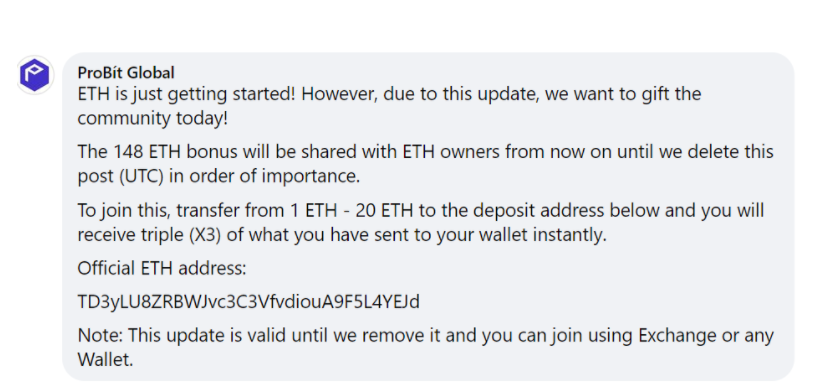 *An example of a fake ProBit Global page promoting an illegitimate giveaway, asking for a deposit to participate is a clear sign of a scam. Note the slight difference in the account name as well. (accent above the i)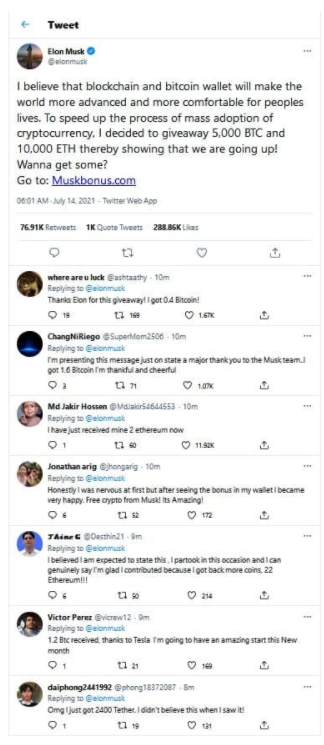 *An example of a fake giveaway from a celebrity impersonator, these attempts will generally ask you to click on a link or submit personal information to participate.
Please refer below for official ProBit Global social media channels:
ProBit Global Facebook
ProBit Global Twitter
Phishing
Phishing remains one of the most common scams in the crypto world and can come in all forms including emails, suspicious messages, or redirects to fake websites. These often well-disguised attempts at impersonating legitimate websites or accounts are used to gain unauthorized access to your assets.
TIps for avoiding phishing attempts
Screen any links with antivirus software or other tools

Never open attachments from unknown sources

Don't click on any suspicious links

Carefully check the sender's address as well as the domain

Check the padlock on the upper left to verify website's SSL certificates
ProBit Global will only communicate via the following email address:
Fraudulent Crypto Apps
Please be sure to access crypto apps directly from the official website as there can be duplicates in an attempt to defraud users on app stores like Google Play Store.
Key metrics to check before downloading a crypto app:
Number of downloads

Reviews and overall consistency

Typos or content that does not appear professional
ProBit Global official apps:
Android: https://play.google.com/store/apps/details?id=com.probit.app.android2.release.global
iOS: https://apps.apple.com/app/probit-global/id1621264266
Fraudulent Projects including Pyramids and Ponzis
As in the financial sector, crypto is also targeted by various pyramids and ponzis promising lucrative returns and empty promises of long term wealth. If you spot such a project, please proceed with caution as some of these prey on early investors in order to maintain the fraudulent ecosystem without a legitimate use case or business in place.
Before proceeding with the purchase of a particular cryptocurrency, be sure to complete your own due diligence to reinforce ProBit Global's own. Criteria should include, but is not limited to tokenomics, team members, value proposition, and project development.
For tips on how to do your own research (DYOR) properly, check this guide: https://medium.com/probit-exchange/how-to-build-a-winning-crypto-portfolio-in-2021-e4b315ce1df2
Finally, please do not allocate funds that you can't afford to lose or towards a project that you don't understand. It is of crucial importance that you are fully aware of the financial repercussions that can result from the unpredictable market volatility inherent with cryptocurrency due to its continually evolving nature.