Click here to view the The LoveChain IEO page
⯈ IEO Duration
4 May 2020 (Monday), 03:00 UTC to 8 May 2020 (Friday), 03:00 UTC
⯈ Price
LOV will be priced at $0.10/LOV
⯈ Bonuses
Buy LOV using PROB, Get 25% Bonus
Users will gain 25% more LOV by purchasing LOV through PROB. PROB is the token of ProBit Global, which offers its holders multiple airdrops and benefits.
Buy LOV using USDT, BTC, ETH, XRP Get 20% Bonus
Users will gain 20% more LOV by purchasing LOV through USDT, BTC, ETH, and XRP.
⯈ KYC Verification Notice
All participants of The LoveChain's token sale are required to complete KYC verification.
About The LoveChain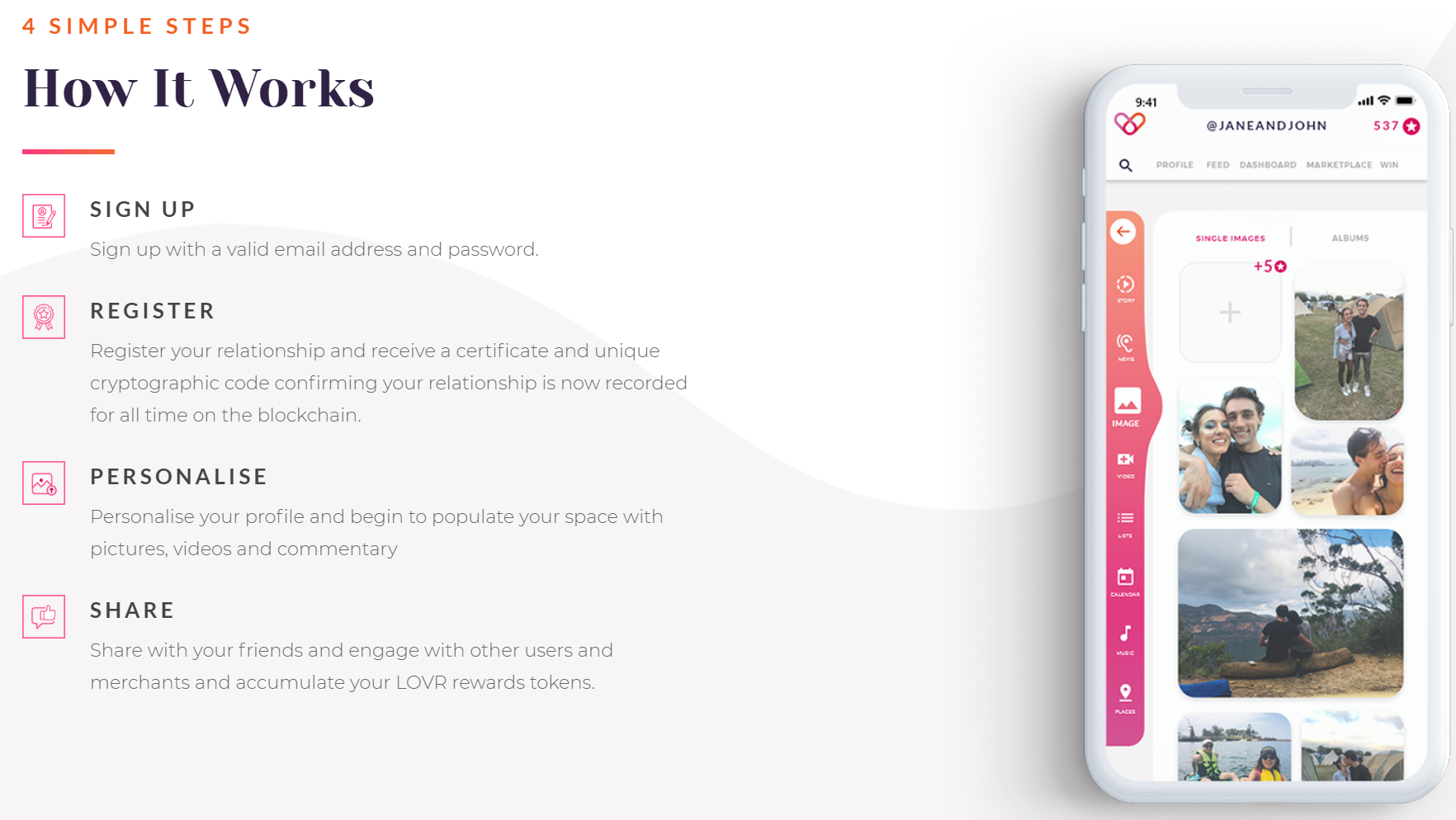 ⯈ Introduction (https://www.thelovechain.io)
The LoveChain is being developed as a social media platform incorporating blockchain technology that is built around the unique theme "Love". The LoveChain gives users the opportunity to commemorate and celebrate the people and things that we love by creating a unique profile to share and be rewarded for creating content.
The LoveChain marketplace includes around 40 merchants such as Interflora, Swarovski, Radisson Hotels, ASICS, Gabriel & Co. and Chow Sang Sang, enabling users to purchase gifts for their loved ones and earn discounts using tokens and rewards tokens.
The team has developed the digital NG Wallet to regulate rewards tokens that users accumulate and the payment solutions through the LoveChain marketplace.
⯈Social Media
Facebook: https://www.fb.me/thelovechain.io
Telegram: https://t.me/thelovechain
Instagram: https://www.instagram.com/thelovechain.io/
Linkedin: https://www.linkedin.com/company/lovechain/?viewAsMember=true
Reddit: https://www.reddit.com/user/thelovechain_io
⯈The LoveChain Press
https://medium.com/@diabopl/what-is-the-lovechain-2a1afb798eb3
https://medium.com/@diabopl/the-fragmentation-of-social-media-bd9310406b79
ABOUT PROBIT GLOBAL
ProBit Global is a Top 20 crypto exchange worldwide servicing crypto enthusiasts with unlimited access to trade and buy Bitcoin, Ethereum and 800+ altcoins in 1000+ markets.
PROBIT GLOBAL IS A BRAND TRUSTED BY MILLIONS OF USERS
200,000+ community members
1,000,000+ monthly active users
3,000,000 monthly web visitors
50,000,000 users on partnering aggregators and wallets such as CoinMarketCap
User interface of Multilingual website supporting 46 different languages
Marketing and community support in 11 key languages
Join our active programs and get huge benefits!
ProBit Global: www.probit.com
ProBit Telegram: https://t.me/ProBitGlobalOfficial