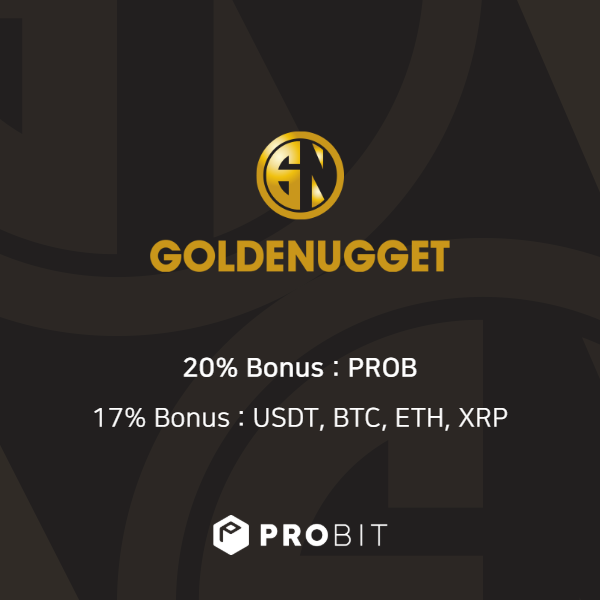 Click here to view the GoldeNugget IEO page
⯈ IEO Duration
20 October 2019 (Sunday), 05:00 UTC to 24 October 2019 (Thursday), 14:59 UTC
⯈ Price
$0.97/GNTO
⯈ Bonuses
Buy GNTO using PROB, Get 20% Bonus
Users will gain 20% more GNTO by purchasing GNTO through PROB. PROB is the token of ProBit Global, which offers its holders multiple airdrops and benefits.
Buy GNTO using USDT, BTC, ETH, and XRP, Get 17% Bonus
Users will gain 17% more GNTO by purchasing GNTO through USDT, BTC, ETH, and XRP.
⯈ KYC Verification Notice
All participants of Golden Nugget's token sale are required to complete KYC verification.
About GoldeNugget

⯈ Introduction (https://www.goldenugget.ch/)
GoldeNugget is the first Crypto platform that allows GNTO token holders the exclusive right to directly purchase or Dutch Auction ethically mined gold at competitive prices through their innovative gold purchasing platform. Gold manufacturing, purchase deliveries, and the auction website are all accurately tracked by the GoldeNugget Blockchain, an EVM (Ethereum Virtual Machine) compatible public licensed blockchain with Proof of Authority Consensus Algorithm.
GNTO tokens are the first to provide a direct link to real gold and GoldeNugget intends to become the top precious metal blockchain in the industry.
⯈Social Media
Facebook: https://www.facebook.com/GoldeNuggetproject/
Twitter: https://twitter.com/GoldeNuggetCH
Youtube: https://www.youtube.com/channel/UC3rmIHUfUb_W_RZ4je-wkIQ/featured
Linkedin: https://www.linkedin.com/company/GoldeNugget/
Telegram: https://t.me/GoldeNugget_token
⯈GoldeNugget Press
https://www.forbes.com/sites/eidoo/2019/03/28/GoldeNugget-a-new-stablecoin-pegged-to-real-gold/#e5950a2ab553
https://en.cryptonomist.ch/2019/05/01/GoldeNugget-token/
ABOUT PROBIT GLOBAL
ProBit Global is a Top 20 crypto exchange worldwide servicing crypto enthusiasts with unlimited access to trade and buy Bitcoin, Ethereum and 800+ altcoins in 1000+ markets.
PROBIT GLOBAL IS A BRAND TRUSTED BY MILLIONS OF USERS
200,000+ community members
1,000,000+ monthly active users
3,000,000 monthly web visitors
50,000,000 users on partnering aggregators and wallets such as CoinMarketCap
User interface of Multilingual website supporting 46 different languages
Marketing and community support in 11 key languages
Join our active programs and get huge benefits!
ProBit Global: www.probit.com
ProBit Telegram: https://t.me/ProBitGlobalOfficial