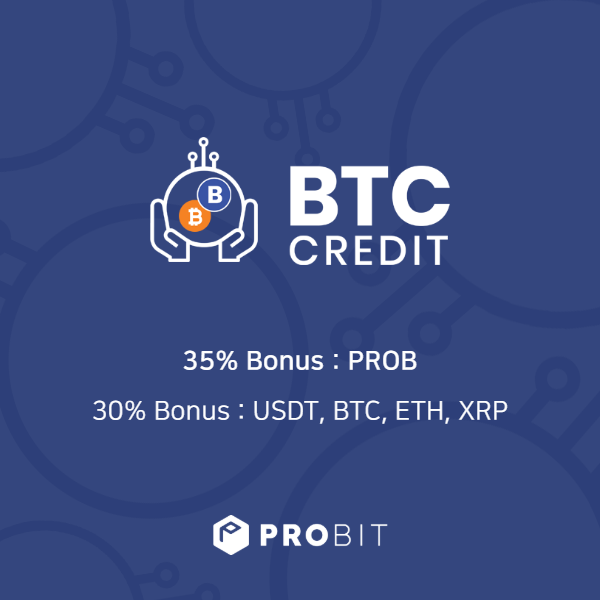 Click here to view the BTCCredit IEO page
⯈ IEO Duration
29 November 2019 (Friday), 03:00 UTC to 3 December 2019 (Tuesday), 03:00 UTC
⯈ Price
BTCC will be priced at $0.1/BTCC.
⯈ Bonuses
Buy BTCC using PROB, Get 35% Bonus
Users will gain 35% more BTCC by purchasing BTCC through PROB. PROB is the token of ProBit Global, which offers its holders multiple airdrops and benefits.
Buy BTCC using USDT, BTC, ETH, and XRP, Get 30% Bonus
Users will gain 30% more BTCC by purchasing BTCC through USDT, BTC, ETH, and XRP.
⯈ KYC Verification Notice
All participants of BTCCredit's token sale are required to complete KYC verification.
About BTCCredit

⯈ Introduction (https://www.btccredit.io/)
BtcCredit is an all-in-one decentralized wallet that gives complete control of Blockchain assets including hold, exchange, lend, borrow, invest, and stake. The decentralized next-gen banking ecosystem is powered by a decentralized multi-currency wallet, p2p lending, and p2p Exchange capabilities.
BtcCredit enables users to use their digital currencies as collateral for quick access to P2P loans through an innovative system powered by BTCC tokens, which provide reduced rates when used as collateral and are also used to reward the creation of new borrower lender contracts and timely EMI payments.
⯈Social Media
https://t.me/joinchat/IBS1OA3IOCA2gDuD2sexaQ
https://twitter.com/btc_credit
https://m.facebook.com/btcctoken
⯈BTCCredit Press
https://cryptonewmedia.press/2019/06/13/btccredit%E2%80%8A-%E2%80%8Anext-gen-decentralized-banking-ecosystem/
https://golos.io/@wellni1488/btccredit-the-next-generation-decentralized-banking-ecosystem
https://medium.com/@info_60688/the-exciting-journey-of-3-friends-to-a-blockchain-startup-e832035e1a08
ABOUT PROBIT GLOBAL
ProBit Global is a Top 20 crypto exchange worldwide servicing crypto enthusiasts with unlimited access to trade and buy Bitcoin, Ethereum and 800+ altcoins in 1000+ markets.
PROBIT GLOBAL IS A BRAND TRUSTED BY MILLIONS OF USERS
200,000+ community members
1,000,000+ monthly active users
3,000,000 monthly web visitors
50,000,000 users on partnering aggregators and wallets such as CoinMarketCap
User interface of Multilingual website supporting 46 different languages
Marketing and community support in 11 key languages
Join our active programs and get huge benefits!
ProBit Global: www.probit.com
ProBit Telegram: https://t.me/ProBitGlobalOfficial