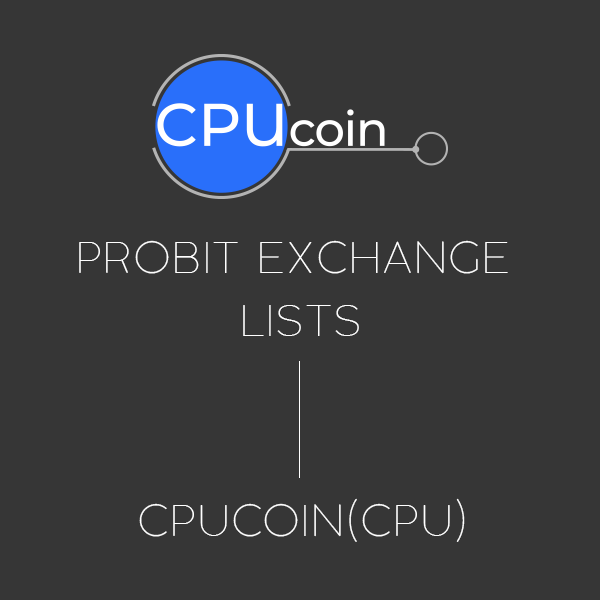 CPU (CPU/USDT) Trading Pairs
- Available for deposits starting from September 16, 2019, Monday, 01:00 UTC.
- Available for trading starting from September 17, 2019, Tuesday, 01:00 UTC.
※ProBit Global reserves the final right to make amendments to the dates in this announcement.
About CPUcoin

⯈ Introduction (https://cpucoin.io/)
CPUcoin is a decentralized Infrastructure-as-a-Service solution that drastically reduces cloud infrastructure costs by creating a new sharing economy for unused CPU/GPU power. Their technology enables anyone to install a miner client and collect funds for their unused computing time, essentially transforming the project into a sort of Airbnb for CPU/GPU computing resources as well as providing a platform for automatically deploying and scaling Decentralized Services and DApps.
A new certified utility token called CPU Coin will enable organizations of all sizes to pay as they go, a highly convenient feature that is not yet available in the market.
⯈Social Media
Telegram: https://t.me/mediarichio
LinkedIn: https://www.linkedin.com/company/mediarich-io/
Twitter: https://twitter.com/CPUcoin
Medium: https://medium.com/@CPUcoin
⯈CPUcoin Press
https://www.globenewswire.com/news-release/2019/08/05/1897055/0/en/CPUcoin-Launches-IEO-on-Probit-Exchange-to-Accelerate-CPU-GPU-Power-Sharing-Economy.html
https://www.globenewswire.com/news-release/2019/08/29/1908139/0/en/CPUcoin-Expands-CPU-GPU-Power-Sharing-with-Cudo-Ventures-Enterprise-Network-Partnership.html
https://wdtnn.com/new-economies/item/61401-cpucoin-launches-testnet-for-decentralized-cpugpu-sharing-economy-network-associated-press
ABOUT PROBIT GLOBAL
ProBit Global is a Top 20 crypto exchange worldwide servicing crypto enthusiasts with unlimited access to trade and buy Bitcoin, Ethereum and 800+ altcoins in 1000+ markets.
PROBIT GLOBAL IS A BRAND TRUSTED BY MILLIONS OF USERS
200,000+ community members
1,000,000+ monthly active users
3,000,000 monthly web visitors
50,000,000 users on partnering aggregators and wallets such as CoinMarketCap
User interface of Multilingual website supporting 46 different languages
Marketing and community support in 11 key languages
Join our active programs and get huge benefits!
ProBit Global: www.probit.com
ProBit Telegram: https://t.me/ProBitGlobalOfficial