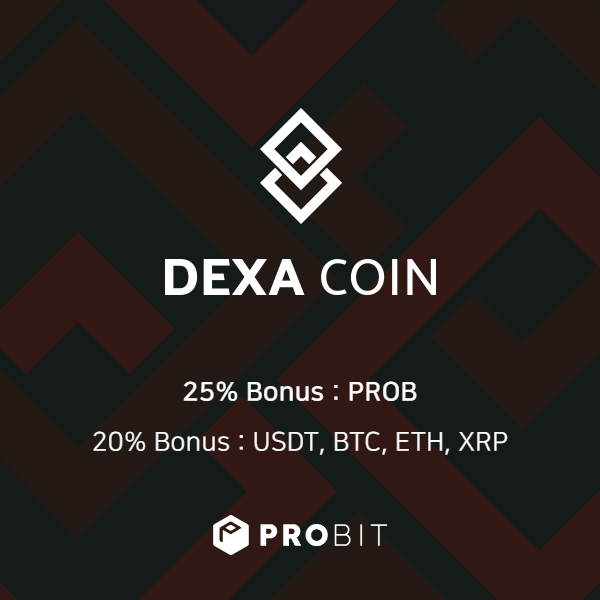 Click here to view the Dexa coin IEO Round 2 page
⯈ IEO Duration
16 Sept 2019 (Monday) 05:00 UTC to 22 Sept 2019 (Sunday) 14:59 UTC
⯈ Price
DEXA will be priced at $0.00004/DEXA.
⯈ Bonuses
Buy DEXA using PROB, Get 25% Bonus
Users will gain 25% more DEXA by purchasing DEXA through PROB. PROB is the token of ProBit Global, which offers its holders multiple airdrops and benefits.
Buy DEXA using USDT, BTC, ETH, and XRP, Get 20% Bonus
Users will gain 20% more DEXA by purchasing DEXA through USDT, BTC, ETH, and XRP.
⯈ KYC Verification Notice
All participants of Dexa coin's token sale are required to complete KYC verification.
About Dexa coin

⯈ Introduction (https://dexacoin.net/)
DEXA COIN simplifies the process of sending and receiving money across the globe by harnessing the power of blockchain technology. An easy, user-friendly and secure app will also incorporate an "Instant Messaging Feature" that not only allows the user to communicate with the people they are sending the money too, but also to socialize with friends & family.
DEXA COIN provides a system that allows users to make convenient and cost-effective money transfers anywhere across the globe at a fraction of a cost without the need for any middlemen.
⯈Social Media
Youtube:https://www.youtube.com/channel/UCJClcJHPCKkn-lJzJz25NhA?view_as=subscriber
Twitter: https://twitter.com/DEXA_COIN
Facebook: https://www.facebook.com/DEXACOIN.DEXA/
Telegram: https://t.me/dexacoin
⯈Dexa coin Press
https://medium.com/@razorremoan/dexa-coin-global-money-transfer-instant-messaging-ap-130867114aff
https://www.publish0x.com/observe-ico/dexa-coin-revolutionary-app-simplifying-global-money-transfe-xoopdz
https://steempeak.com/@kiaragabriel/dexa-coin-or-multifunctional-financial-and-communication-platform
ABOUT PROBIT GLOBAL
ProBit Global is a Top 20 crypto exchange worldwide servicing crypto enthusiasts with unlimited access to trade and buy Bitcoin, Ethereum and 800+ altcoins in 1000+ markets.
PROBIT GLOBAL IS A BRAND TRUSTED BY MILLIONS OF USERS
200,000+ community members
1,000,000+ monthly active users
3,000,000 monthly web visitors
50,000,000 users on partnering aggregators and wallets such as CoinMarketCap
User interface of Multilingual website supporting 46 different languages
Marketing and community support in 11 key languages
Join our active programs and get huge benefits!
ProBit Global: www.probit.com
ProBit Telegram: https://t.me/ProBitGlobalOfficial