Trading Pairs:
BDP/BTC
BDP/USDT
Deposit: September 2, 2019, 09:00 UTC
Trading: September 3, 2019, 09:00 UTC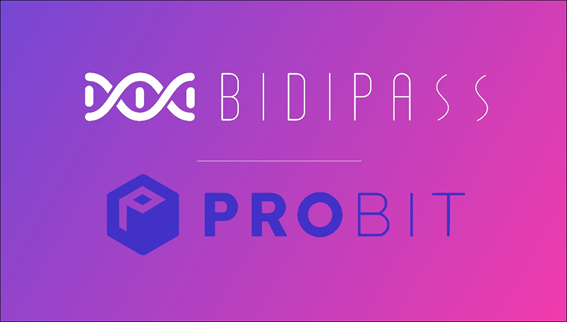 ⯈ Introduction (https://bidipass.org/)
BidiPass (BDP) is an Identity Authentication Protocol built on Ethereum.
The BidiPass Authenticator is the world's first decentralized 3FA for enhanced infrastructure security, twice as fast and more secure than Google Authenticator and boosting state-of-the-art UX.
The BidiPass platform offers a user-friendly, secure and reliable method to authorize actions within connected platforms (e.g. approving transactions on a trading platform) by using a two-layer security protocol that operates in a fully distributed, peer-to-peer manner.
The BidiPass blockchain architecture is based on a hybrid approach that combines private and public blockchains in order to not only achieve security and performance but also keep the operational costs extremely low.
BidiPass is deeply aligned with the ethos of decentralization. Our goal is to create a solution that will adapt to technological innovations and greater infrastructure security in the long term.
More information here: https://bidipass.org/
⯈ Social Media
Twitter: https://twitter.com/bidipass
Facebook: https://www.facebook.com/bidipass
LinkedIn: https://www.linkedin.com/company/28139194
⯈ Press Releases
ABOUT PROBIT GLOBAL
ProBit Global is a Top 20 crypto exchange worldwide servicing crypto enthusiasts with unlimited access to trade and buy Bitcoin, Ethereum and 800+ altcoins in 1000+ markets.
PROBIT GLOBAL IS A BRAND TRUSTED BY MILLIONS OF USERS
200,000+ community members
1,000,000+ monthly active users
3,000,000 monthly web visitors
50,000,000 users on partnering aggregators and wallets such as CoinMarketCap
User interface of Multilingual website supporting 46 different languages
Marketing and community support in 11 key languages
Join our active programs and get huge benefits!
ProBit Global: www.probit.com
ProBit Telegram: https://t.me/ProBitGlobalOfficial