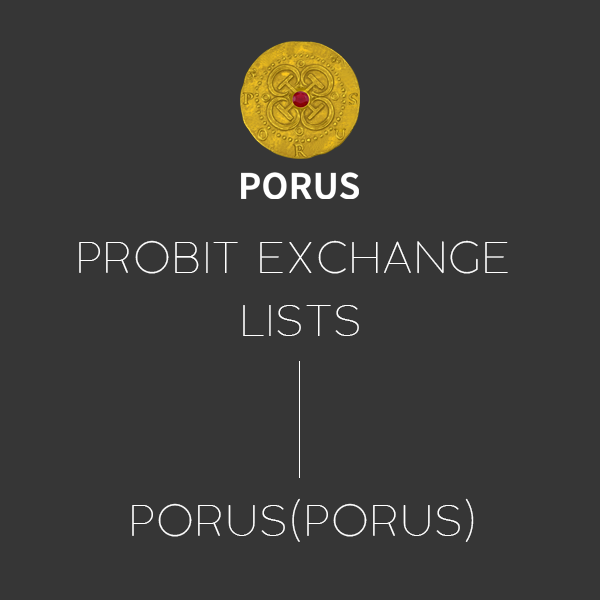 PORUS (PORUS/USDT) Trading Pair
- Available for deposits starting from September 9, 2019, Monday, 03:00 UTC.
- Available for trading starting from September 10, 2019, Tuesday, 06:00 UTC.
※ProBit Global reserves the final right to make amendments to the dates in this announcement.
About PORUS

⯈ Introduction (http://home.porus.io/)
PORUS COIN is a solution that solves the problem of the low monetary value stability and lack of real use of the existing cryptographic trading platform and provides PORUS with the stability, transparency, and scalability so that users and merchants can trust and use the PORUS trading platform.
It also leverages side-chain-based commercial tokens to facilitate payment services within Usage Groups. PORUS COIN will continue to invest in the revenues generated to create sustainable value for investors.
⯈PORUS Press
https://medium.com/probit-exchange/porus-coin-porus-will-launch-ieo-with-probit-exchange-d8af74115e64
ABOUT PROBIT GLOBAL
ProBit Global is a Top 20 crypto exchange worldwide servicing crypto enthusiasts with unlimited access to trade and buy Bitcoin, Ethereum and 800+ altcoins in 1000+ markets.
PROBIT GLOBAL IS A BRAND TRUSTED BY MILLIONS OF USERS
200,000+ community members
1,000,000+ monthly active users
3,000,000 monthly web visitors
50,000,000 users on partnering aggregators and wallets such as CoinMarketCap
User interface of Multilingual website supporting 46 different languages
Marketing and community support in 11 key languages
Join our active programs and get huge benefits!
ProBit Global: www.probit.com
ProBit Telegram: https://t.me/ProBitGlobalOfficial