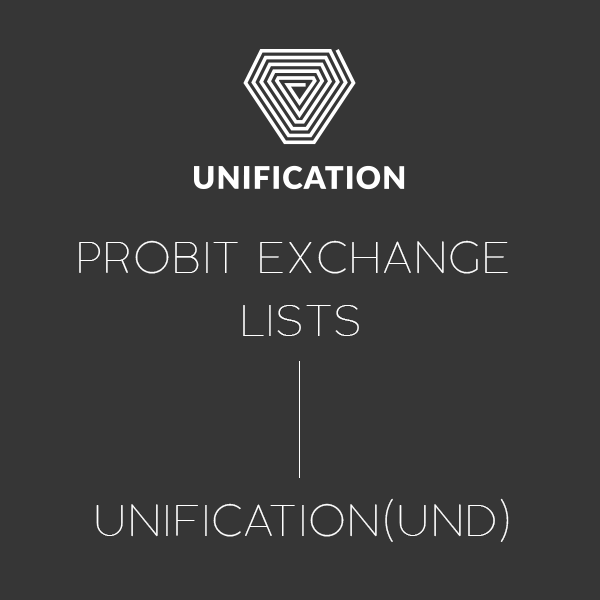 UND (UND/BTC) Trading Pair
- Available for deposits starting from August 23, 2019, Friday, 07:00 UTC.
- Available for trading starting from August 23, 2019, Friday, 07:00 UTC.
※ProBit Global reserves the final right to make amendments to the dates in this announcement.
About Unification

⯈ Introduction (https://www.unification.com/)
Unification is a hybrid public/private blockchain that was created for smooth integration into enterprises of various scales to onboard blockchain technology. The purpose of Unification is to create a public/private hybrid ecosystem that allows operators of WRKChains to control cost/speed for themselves and their clients while sharing the immutable trust of Mainchain.
⯈Social Media
Twitter: https://twitter.com/unificationUND
Medium: https://medium.com/unificationfoundation
Telegram: https://t.me/unificationfoundation
⯈Unification Press
https://www.prnewswire.com/news-releases/bitforex-turbo-success-story-all-unification-und-tokens-sold-in-minutes-300831274.html
https://cryptonewmedia.press/2019/08/03/introducing-the-3-pillars-of-auseful-blockchain-unification-foundation/?utm_source=feedburner&utm_medium=feed&utm_campaign=Feed%3A+BitcoinIndependentNewsAndBlog+%28Cryptocurrency+new+media+press%29
http://www.altnews.nu/unification-eos-blockchain-smart-contract-data-exchange-protocol/
ABOUT PROBIT GLOBAL
ProBit Global is a Top 20 crypto exchange worldwide servicing crypto enthusiasts with unlimited access to trade and buy Bitcoin, Ethereum and 800+ altcoins in 1000+ markets.
PROBIT GLOBAL IS A BRAND TRUSTED BY MILLIONS OF USERS
200,000+ community members
1,000,000+ monthly active users
3,000,000 monthly web visitors
50,000,000 users on partnering aggregators and wallets such as CoinMarketCap
User interface of Multilingual website supporting 46 different languages
Marketing and community support in 11 key languages
Join our active programs and get huge benefits!
ProBit Global: www.probit.com
ProBit Telegram: https://t.me/ProBitGlobalOfficial