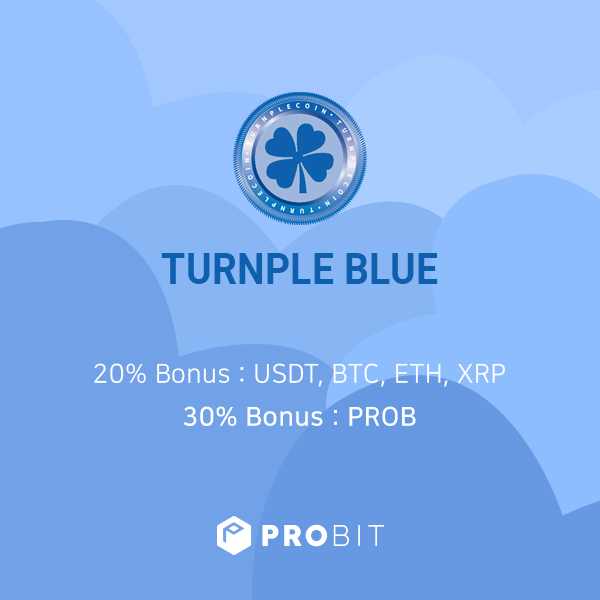 TURNPLE BLUE(TRPEB) will be launching its token sales with ProBit Global!
⯈ IEO Duration
13 June 2019 (Thursday), 03:00 UTC to 18 June 2019 (Tuesday), 02:59 UTC
⯈ Price
TRPEB will be priced at $0.02/TRPEB.
⯈ Bonuses
Buy TRPEB using PROB, Get 30% Bonus
Users will gain 30% more TRPEB by purchasing TRPEB through PROB. PROB is the token of ProBit Global, which offers its holders multiple airdrops and benefits.
Buy TRPEB using USDT, BTC, ETH, and XRP, Get 20% Bonus
Users will gain 20% more TRPEB by purchasing TRPEB through USDT, BTC, ETH, and XRP.
⯈ KYC Verification Notice
All participants of TURNPLE BLUE's token sale are required to complete KYC verification. Users are required to complete the entire KYC verification process at ProBit Global (https://www.probit.com) after the IEO.
⯈ About TURNPLE BLUE (http://www.turnple.net)
TRP will be used in real life as a hybrid TRP optimized for online payment and off-line payment by combining a fixed value blockchain pay and a blockchain with a variable value. The TRP global platform will provide services around the world through our network of sports, real estate, entertainment, home shopping, medical services, leisure industry, luxury shop, and various other services.
ABOUT PROBIT GLOBAL
ProBit Global is a Top 20 crypto exchange worldwide servicing crypto enthusiasts with unlimited access to trade and buy Bitcoin, Ethereum and 800+ altcoins in 1000+ markets.
PROBIT GLOBAL IS A BRAND TRUSTED BY MILLIONS OF USERS
200,000+ community members
1,000,000+ monthly active users
3,000,000 monthly web visitors
50,000,000 users on partnering aggregators and wallets such as CoinMarketCap
User interface of Multilingual website supporting 46 different languages
Marketing and community support in 11 key languages
Join our active programs and get huge benefits!
ProBit Global: www.probit.com
ProBit Telegram: https://t.me/ProbitEnglish
⯈ IEO at ProBit Global
ProBit Global is able to support an IEO with more than 5 currencies, multiple sales round, different bonus rates, and various lock-up structures. The funds received are stored with the same high level protections that ProBit Global uses for exchange's deposits.
Preferential listing treatment is given to projects that conduct IEO on ProBit Global.
For more information on running an IEO on ProBit Global, please send an email to partnership@probit.com