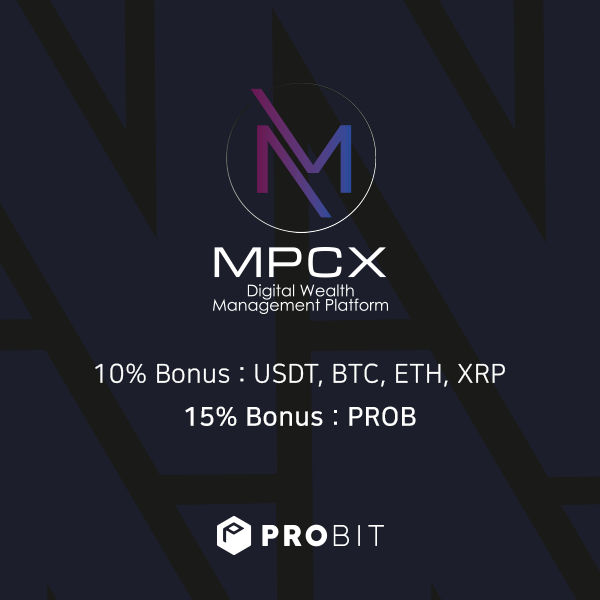 MPCX(XDMC) will be launching the second round of token sales with ProBit Global!
⯈ IEO Duration
28 Jun 2019 (Friday) 05:00 to 11 Jul 2019 (Thursday) 05:59 UTC
⯈ Price
XDMC will be priced at $0.06/XDMC.
⯈ Bonuses
Buy XDMC using PROB, Get 15% Bonus
Users will gain 15% more XDMC by purchasing XDMC through PROB. PROB is the token of ProBit Global, which offers its holders multiple airdrops and benefits.
Buy XDMC using USDT, BTC, ETH and XRP, Get 10% Bonus
Users will gain 10% more XDMC by purchasing XDMC through USDT, BTC, ETH and XRP.
⯈ KYC Verification Notice
All participants of MPCX's token sale are required to complete KYC verification. International users are required to complete the entire KYC verification process at ProBit Global (https://www.probit.com).
⯈ About MPCX (https://mpcx.co/)
MPCX is a digital blockchain driven financial services platform with the objective of being a major crypto financial service aggregator. Their core focuses will include digital wealth management, cryptocurrency exchange, as well as trading, digital banking, crypto research, ICO promotion, and crypto lending.
ABOUT PROBIT GLOBAL
ProBit Global is a Top 20 crypto exchange worldwide servicing crypto enthusiasts with unlimited access to trade and buy Bitcoin, Ethereum and 800+ altcoins in 1000+ markets.
PROBIT GLOBAL IS A BRAND TRUSTED BY MILLIONS OF USERS
200,000+ community members
1,000,000+ monthly active users
3,000,000 monthly web visitors
50,000,000 users on partnering aggregators and wallets such as CoinMarketCap
User interface of Multilingual website supporting 46 different languages
Marketing and community support in 11 key languagesJoin our active programs and get huge benefits!
1. Trading Fee Discount: Buy PROB, pay trading fees with PROB & get as low as 0.03% trading fee
2. Referral Program: Earn 10-30% of trading fees for referring friends to ProBit
3. ProBit Exclusive: Subscribe to 50% off Top 200 tokens
4. Auto Hold Campaigns: Hold tokens and get 6% annualized returns
ProBit Global: www.probit.com
ProBit Telegram: https://t.me/ProbitEnglish
⯈ IEO at ProBit Global
ProBit Global is able to support an IEO with more than 5 currencies, multiple sales round, different bonus rates, and various lock-up structures. The funds received are stored with the same high level protections that ProBit Global uses for exchange's deposits.
Preferential listing treatment is given to projects that conduct IEO on ProBit Global.
For more information on running an IEO on ProBit Global, please send an email to partnership@probit.com