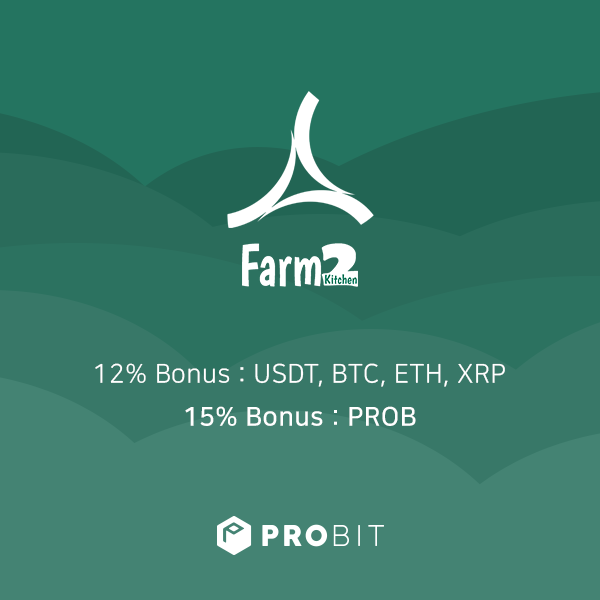 Farm2Kitchen IEO round 2 will launch on May 7 (06:00 UTC).
⯈ IEO Duration
7 May 2019 (Tuesday), 06:00 UTC to 14 May 2019 (Tuesday), 02:59 UTC
⯈ Price
F2K will be priced at $0.1/F2K.
⯈ Bonuses
Buy F2K using PROB, Get 15% Bonus
Users will gain 15% more F2K by purchasing F2K through PROB. PROB is the token of ProBit Global, which offers its holders multiple airdrops and benefits.
Buy F2K using USDT, BTC, ETH, and XRP Get 12% Bonus
Users will gain 12% more F2K by purchasing F2K through USDT, BTC, ETH, and XRP.
Referrers will earn 1% of the F2K tokens purchased by their referees.
⯈ KYC Verification Notice
All participants of Farm2Kitchen's token sale are required to complete KYC verification.
⯈ About Farm2Kitchen (https://www.farm2kitchen.io/)
Farm2Kitchen provides a solution for food safety and security with a global marketplace for farmers along with complete transparency of the entire supply chain. The Hyperledger Blockchain platform will be the core element that aims to establish responsible food traceability, efficient and automated recalls, competitive pricing, as well as minimize food wastage.
⯈ ABOUT PROBIT GLOBAL
ProBit Global is a Top 20 crypto exchange worldwide servicing crypto enthusiasts with unlimited access to trade and buy Bitcoin, Ethereum and 800+ altcoins in 1000+ markets.
⯈ IEO at ProBit Global
ProBit Global is able to support an IEO with more than 5 currencies, multiple sales round, different bonus rates, and various lock-up structures. The funds received are stored with the same high level protections that ProBit Global uses for exchange's deposits.
Preferential listing treatment is given to projects that conduct IEO on ProBit Global.
For more information on running an IEO on ProBit Global, please send an email to partnership@probit.com