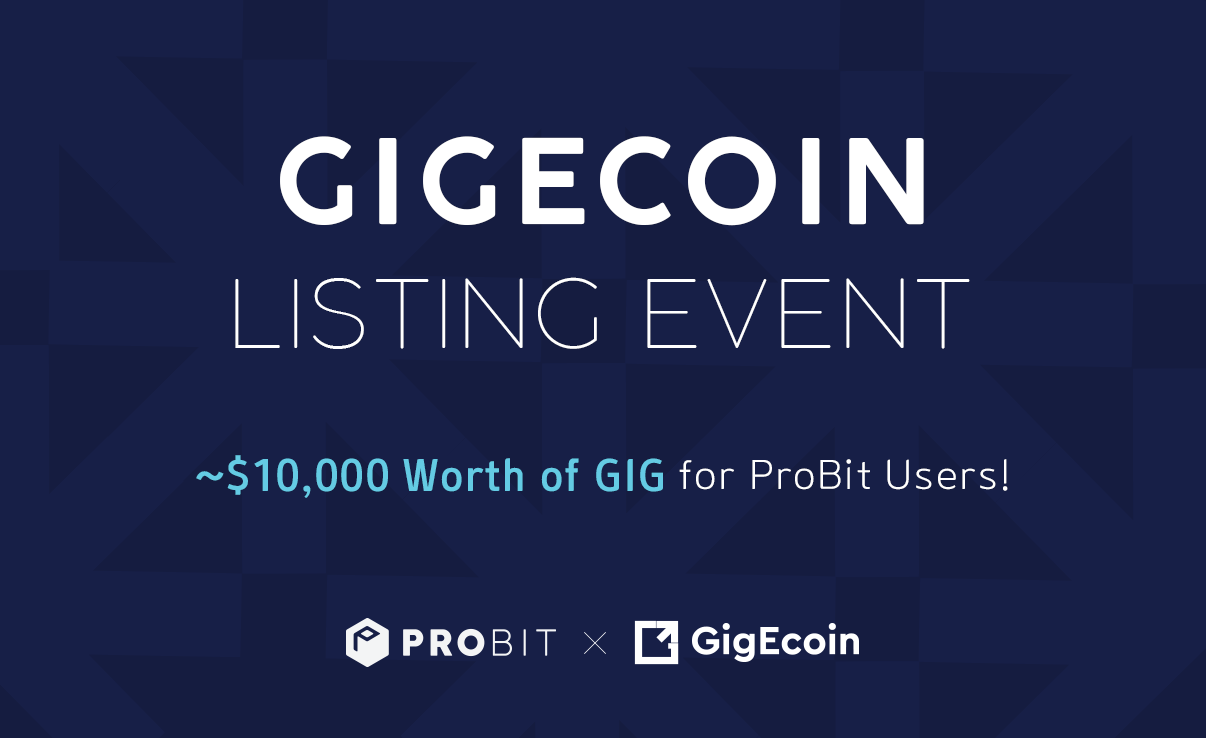 ProBit Global (www.probit.com) is glad to announce the listing of GigEcoin (GIG).
Deposit Date: 22 Mar 2019
Listing Date: 25 Mar 2019
Trading Pairs: GIG/ETH, GIG/BTC
GIG Listing Events
Total Amount: 5,000 GIG
1. Buy/Deposit GIG, Earn GIG
Duration: 25 Mar 2019 - 18 Apr 2019
A total of 1,000 GIG will be distributed to users in proportion to the net purchase and net deposit of GIG by users in this duration. Each account may receive a maximum of 30 GIG.
2. Hold PROB, Earn GIG
Holders of over 500 PROB tokens will receive 3,000 GIG in proportion to the number of PROB held, subject to a cap per account. A snapshot will be taken on a random date in May.
3. Trade GIG, Earn GIG
Duration: 26 Mar. 2019, 03:00 UTC to 18 Apr 2019, 02:59 UTC
A trading competition will be held for GIG/ETH and GIG/BTC trading pairs. A total of 1,000 GIG will be earned by the Top 10 users. The prizes structure will be announced on the trading competition page at the start of the competition.
ABOUT PROBIT GLOBAL
ProBit Global is a Top 20 crypto exchange worldwide servicing crypto enthusiasts with unlimited access to trade and buy Bitcoin, Ethereum and 800+ altcoins in 1000+ markets.
PROBIT GLOBAL IS A BRAND TRUSTED BY MILLIONS OF USERS
200,000+ community members
1,000,000+ monthly active users
3,000,000 monthly web visitors
50,000,000 users on partnering aggregators and wallets such as CoinMarketCap
User interface of Multilingual website supporting 46 different languages
Marketing and community support in 11 key languages
Join our active programs and get huge benefits!
ProBit Global: www.probit.com
ProBit Telegram: https://t.me/ProbitEnglish
GigEcoin (https://gigecoin.com/)
GigEcoin is a decentralized job outsourcing platform that provides intelligent job matching resources for temporary job seekers and employers. Having established the first ever sector blockchain crypto platform, GigEcoin provides work recruiting opportunities and services with GigEcoin and fiat currency payment options.
Terms:
ProBit Global reserves the right to cancel or amend the event rules with sole discretion.

ProBit Global reserves the right for final interpretation of the results of these events.