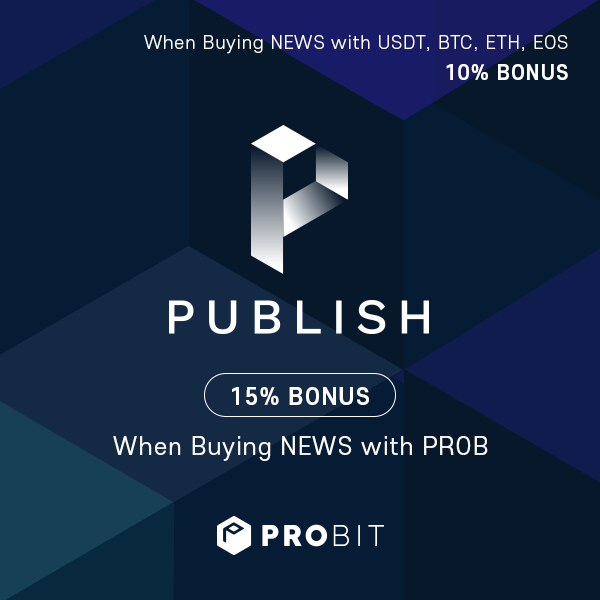 PUBLISH Protocol (NEWS) will be launching its token sales with ProBit Global from March 26, 2019, (03:00 UTC) to March 28, 2019 (02:59 UTC). Join here: https://www.probit.com/en-us/ieo/news-round1/0
NEWS will be priced at $0.01/NEWS.
Quote currencies that will be accepted are PROB, USDT, BTC, ETH, and EOS.
Buy NEWS using PROB, Get 15% Bonus
Users will gain 15% more NEWS by purchasing NEWS through PROB. PROB is the token of ProBit Global, which offers its holders multiple airdrops and benefits.
Buy NEWS using USDT, BTC, ETH, and EOS Get 10% Bonus
Users will gain 10% more NEWS by purchasing NEWS through USDT, BTC, ETH, and EOS.
Earn NEWS by referring
Referrers will earn 1% of the NEWS tokens purchased by their referees.
KYC Verification Notice
All participants of Chars's token sale are required to complete KYC verification.
About PUBLISH Protocol (https://publishprotocol.io/)
PUBLISH Protocol has established a global blockchain-based media outlet ecosystem aimed at providing a platform for smaller publishers in order to maintain the integrity and transparency of legitimate news, journalism, and other forms of media. By incorporating open source news production software and an equalized compensation platform, PUBLISH Protocol seeks to uphold the integrity of media through decentralized and autonomous journalism.
ABOUT PROBIT GLOBAL
ProBit Global is a Top 20 crypto exchange worldwide servicing crypto enthusiasts with unlimited access to trade and buy Bitcoin, Ethereum and 800+ altcoins in 1000+ markets.
PROBIT GLOBAL IS A BRAND TRUSTED BY MILLIONS OF USERS
200,000+ community members
1,000,000+ monthly active users
3,000,000 monthly web visitors
50,000,000 users on partnering aggregators and wallets such as CoinMarketCap
User interface of Multilingual website supporting 46 different languages
Marketing and community support in 11 key languagesJoin our active programs and get huge benefits!
1. Trading Fee Discount: Buy PROB, pay trading fees with PROB & get as low as 0.03% trading fee
2. Referral Program: Earn 10-30% of trading fees for referring friends to ProBit
3. ProBit Exclusive: Subscribe to 50% off Top 200 tokens
4. Auto Hold Campaigns: Hold tokens and get 6% annualized returns
ProBit Global: www.probit.com
ProBit Telegram: https://t.me/ProbitEnglish