ProBit Global (www.probit.com) is glad to announce the listing of HERB. The HERB/ETH pairing will be made available for deposit on 25 Jan 2019 and trading on 28 Jan 2019.
Listing Event Details
Duration: 28 Jan – 18 Feb 2019
Total amount: 200,000,000 HERB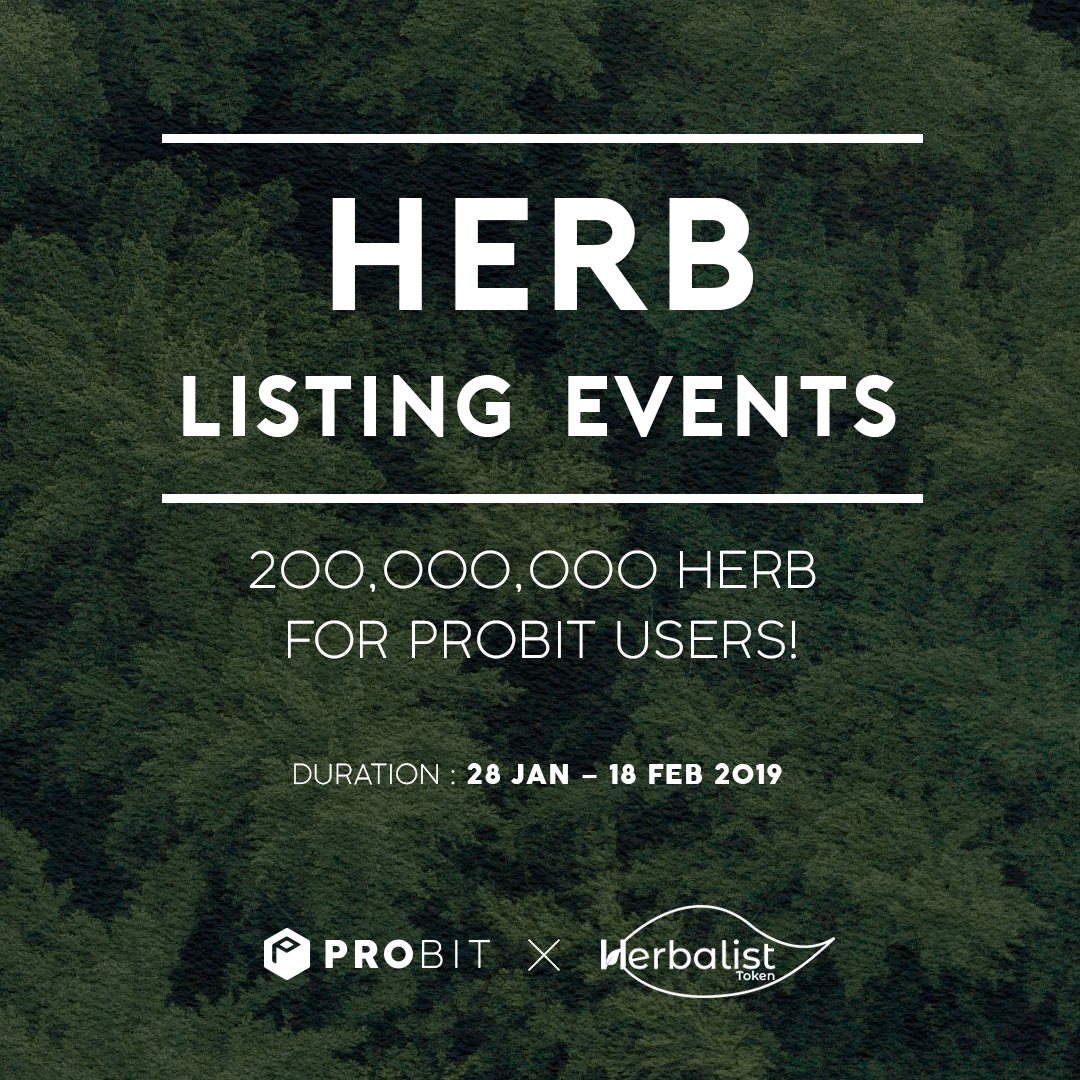 1. Buy/Deposit HERB, Earn HERB
Duration: 28 Jan – 18 Feb 2019
100,000,000 HERB will be distributed to users in proportion to the net purchase/deposit of HERB by users in this duration.
Net purchase/deposit of HERB volume is calculated by buying/deposit volume minus selling/withdraw volume in the duration above.
Each account may receive a maximum of 3,000,000 HERB in this contest.
Two snapshots will be taken to calculate net purchases/deposit. The first snapshot will be on first minute of listing HERB/ETH. The second snapshot will be an undisclosed time in Feb 2019, with the latest possible time of snapshot being 18 Feb 2019.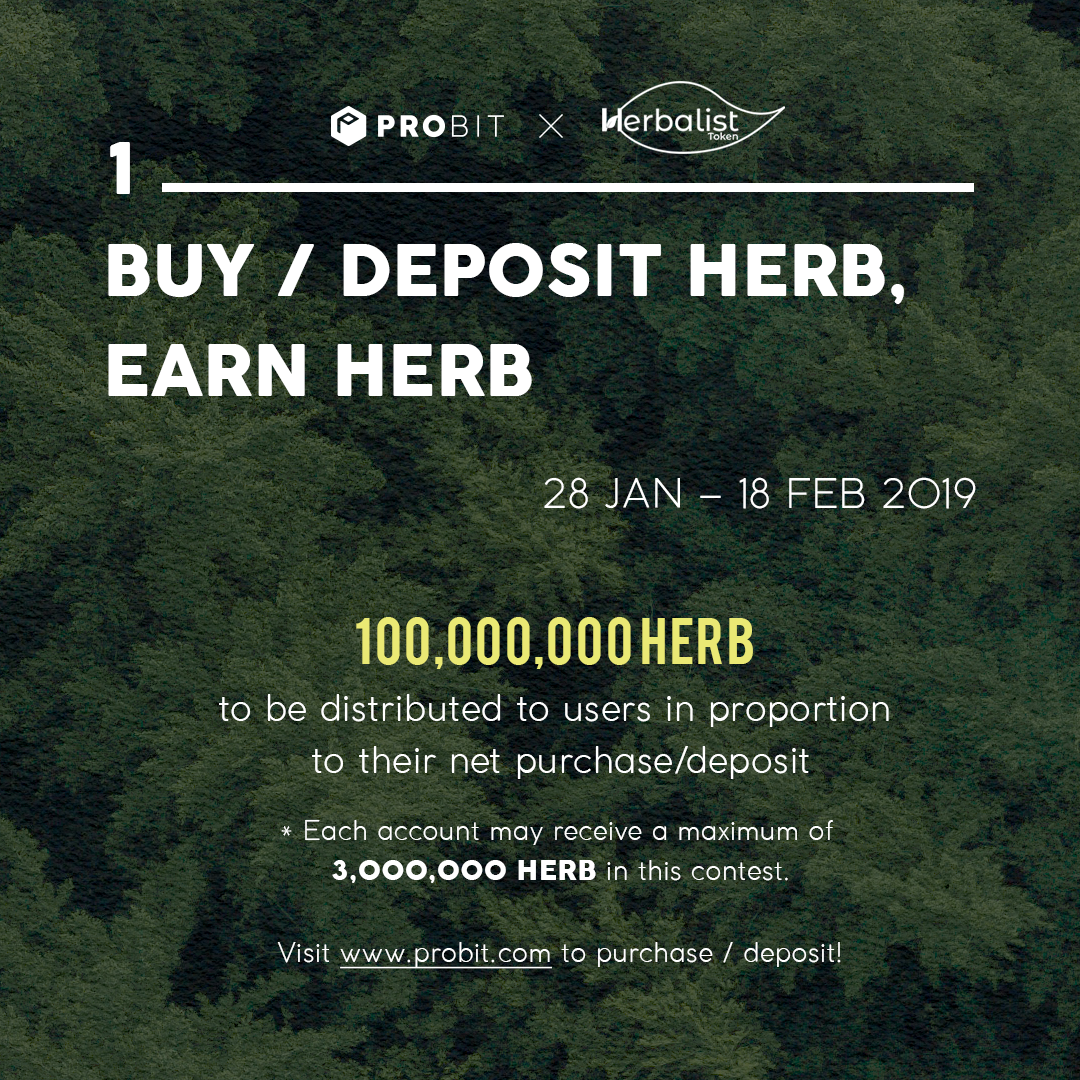 2. Hold PROB, Earn HERB
A total of 100,000,000 HERB will be rewarded to participants of this event.
Premium 4 Diamond users (10,000 or more PROB holdings) will receive HERB split equally on 1 Feb 2019.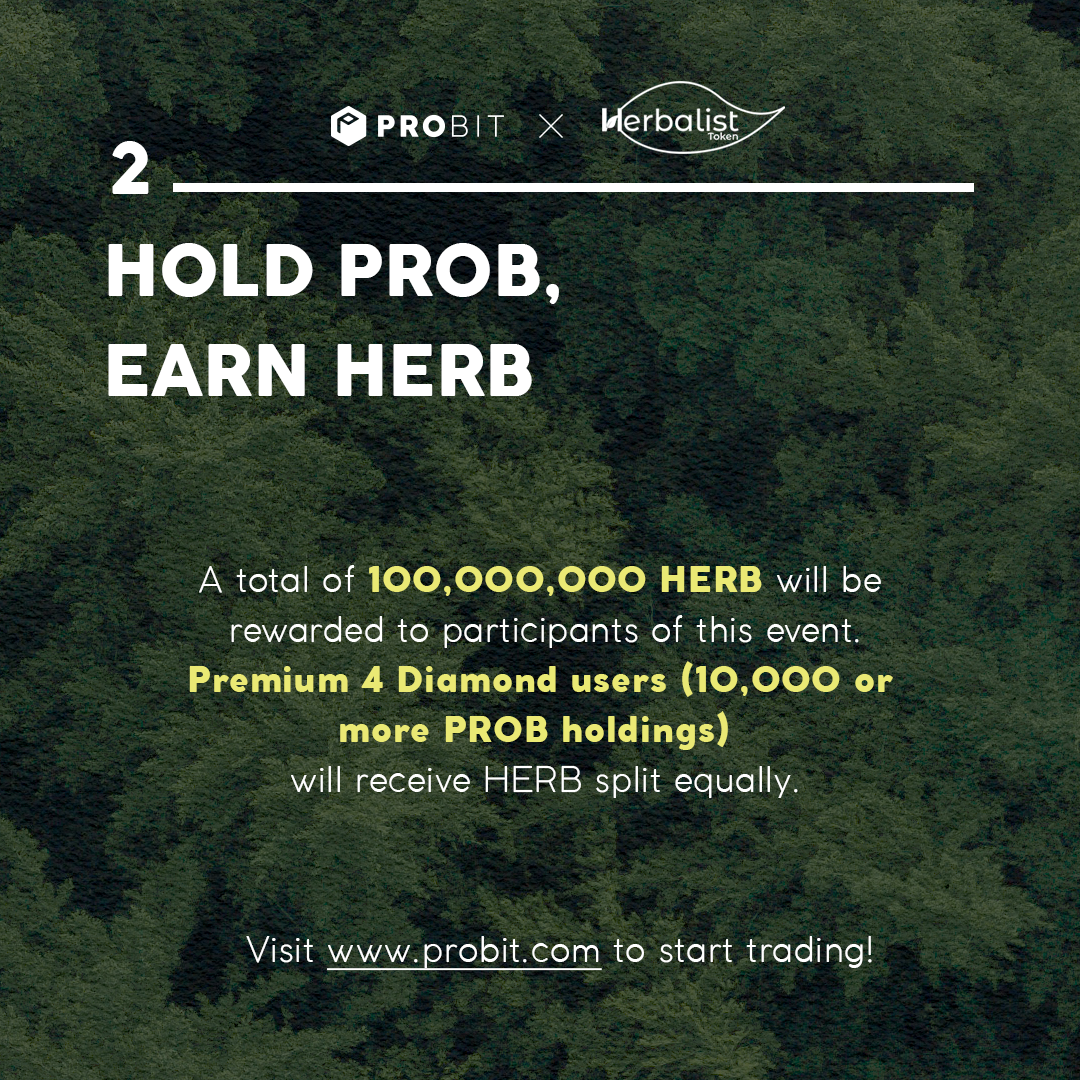 ABOUT PROBIT GLOBAL
ProBit Global is a Top 20 crypto exchange worldwide servicing crypto enthusiasts with unlimited access to trade and buy Bitcoin, Ethereum and 800+ altcoins in 1000+ markets.
Herbalist Token Project (https://www.herbalisttoken.com/) is going to solve expensive rare herbs problem by building a blockchain integrated marketplace that will bring the farmers and the buyers together. Any farmer is going to be able list their products and find buyers around the globe easily and quickly. Herbalist Token Project offers a new platform to cut the costs and give farmers an opportunity to sell their products directly to the consumers.
Terms:
ProBit Global reserves the right to cancel or amend the event rules at our sole discretion.

ProBit Global reserves the right for final interpretation of the results of this event.