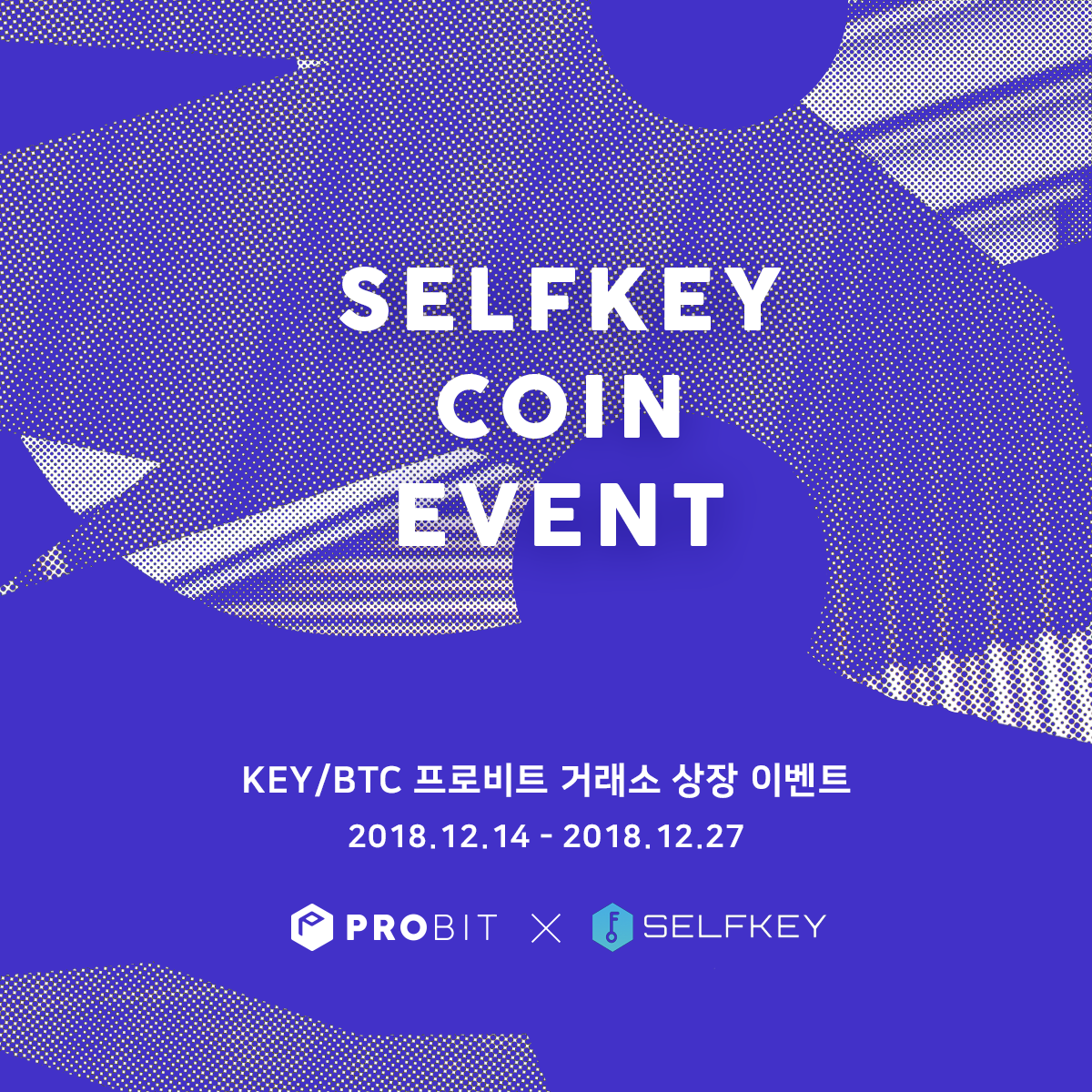 ProBit Global (www.probit.com) is happy to announce a new pairing to list SelfKey (KEY). The KEY/BTC pairing will be made available on 14 Dec 2018 on ProBit Global. Deposits of KEY will be allowed from 6 Dec 2018.
Trading Competition & Airdrops – 15,000,000 KEY
Duration – 14 Dec 2018 – 27 Dec 2018
1. Trade KEY, Earn KEY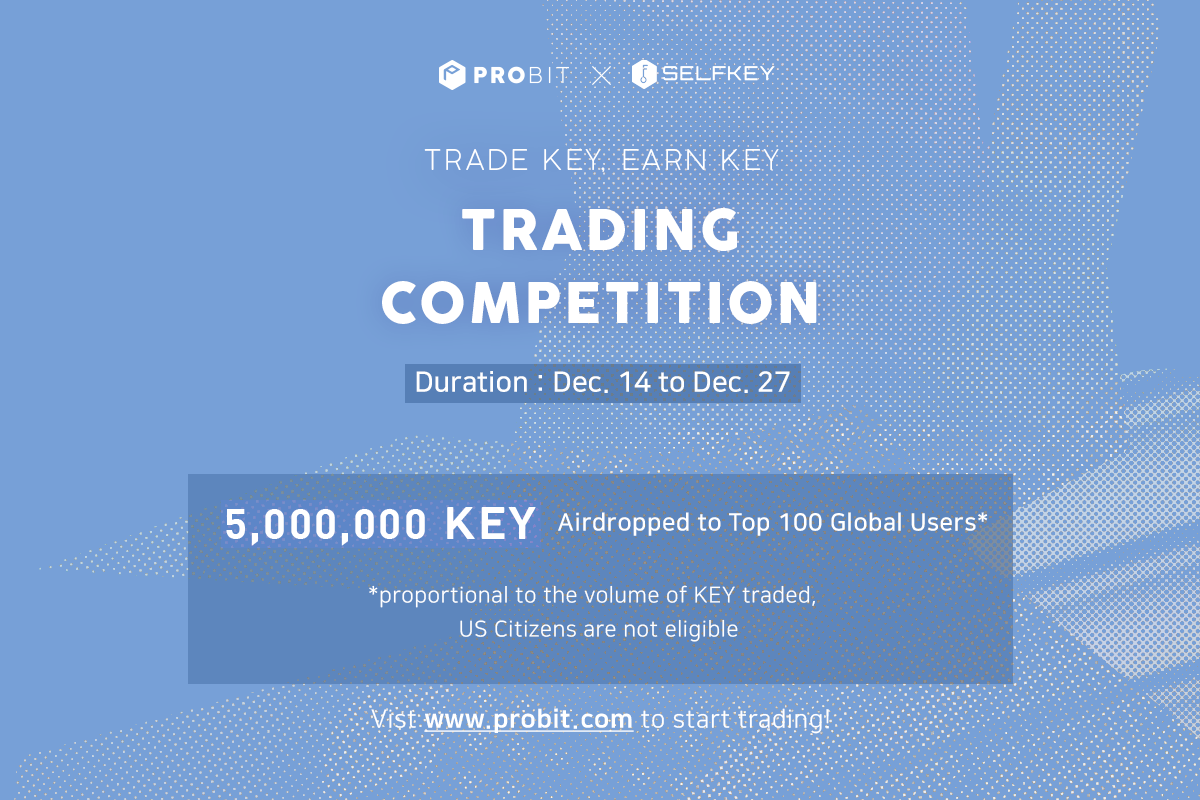 Duration - 2 weeks
A trading competition for KEY will be held where 5,000,000 KEY will be won by Top 100 global users, proportional to the volume of KEY traded. This contest is not eligible for US citizens.
2. Trade KEY, Earn PROB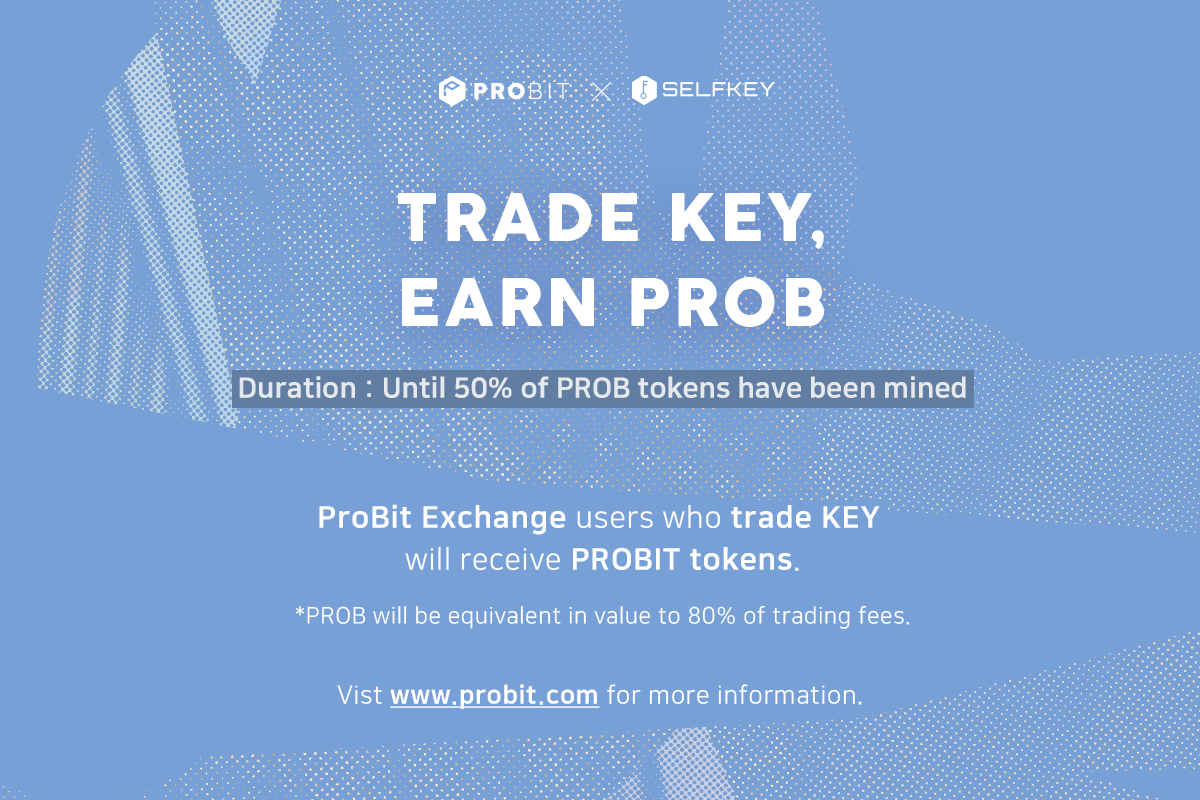 Duration – Until 50% of PROB tokens have been mined
Users who trade KEY will receive PROB tokens. PROB tokens will be equivalent in value to 80% of trading fees incurred.
Note: If PROB is used to pay a discounted trading fee, then the trader will not qualify for trade mining of PROB.
3. Hold PROB, Earn KEY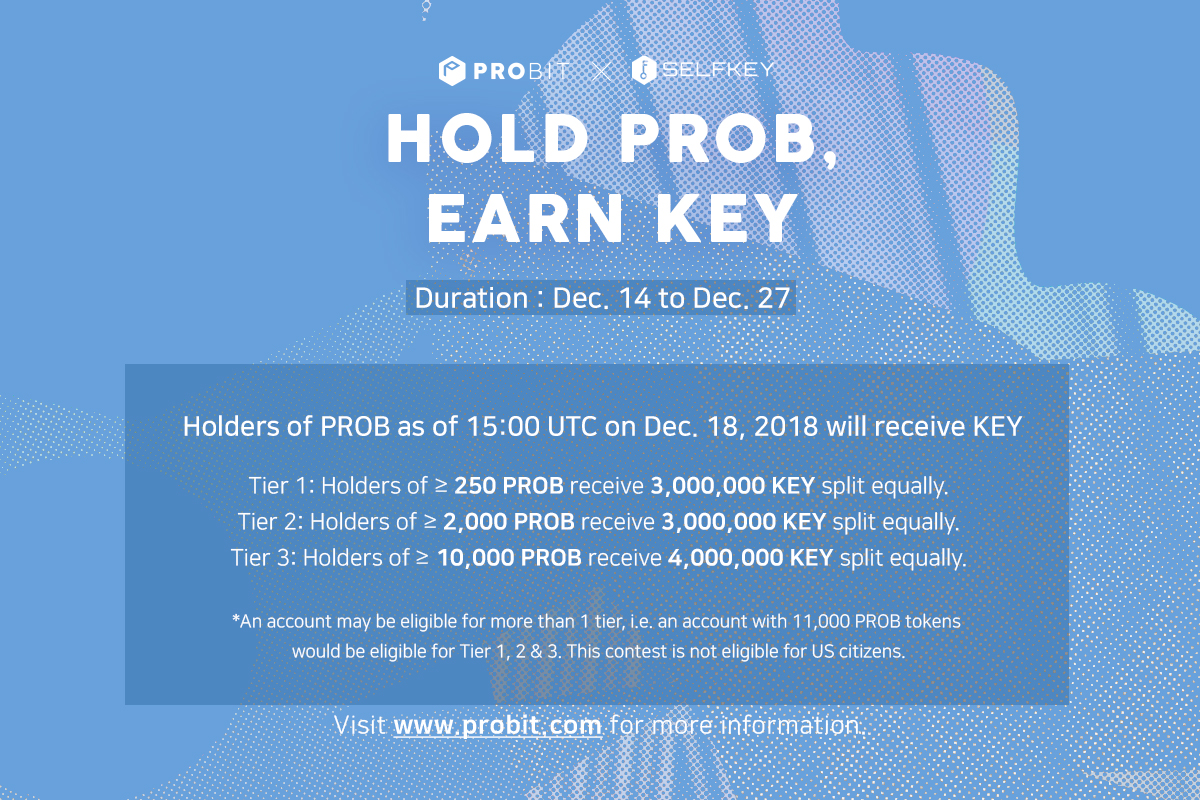 Holders of PROB tokens as of 15:00 UTC on Dec. 18, 2018 will receive 10,000,000 KEY. The PROB tokens will be split into 3 tiers.
Tier 1: Holders of ≥ 250 PROB tokens receive 3,000,000 KEY split equally.
Tier 2: Holders of ≥ 2,000 PROB tokens receive 3,000,000 KEY split equally.
Tier 3: Holders of ≥ 10,000 PROB tokens receive 4,000,000 KEY split equally.
The above distribution of KEY is cumulative. An account may be eligible for more than 1 tier, i.e. an account with 11,000 PROB tokens would be eligible for Tier 1, 2 & 3.
This contest is not eligible for US citizens.
SelfKey Foundation is an identity system built on an open platform consisting of several key components including: SelfKey Foundation, a non-profit foundation whose charter and governance enshrines the principles of self-sovereign identity, a technology stack with a free and open source identity wallet for the identity owner, a marketplace with real products and services available at launch, a JSON-LD (machine readable) protocol, connection to 3rd party identity micro services which comply with KYC laws and regulations, and a native token called "KEY" which enables the SelfKey ecosystem to exchange value and information in an efficient, fully-digital, self-sovereign manner.. For more information, please visit: https://selfkey.org/
ABOUT PROBIT GLOBAL
ProBit Global is a Top 20 crypto exchange worldwide servicing crypto enthusiasts with unlimited access to trade and buy Bitcoin, Ethereum and 800+ altcoins in 1000+ markets.
*ProBit Global reserves the right to final interpretation of this contest.