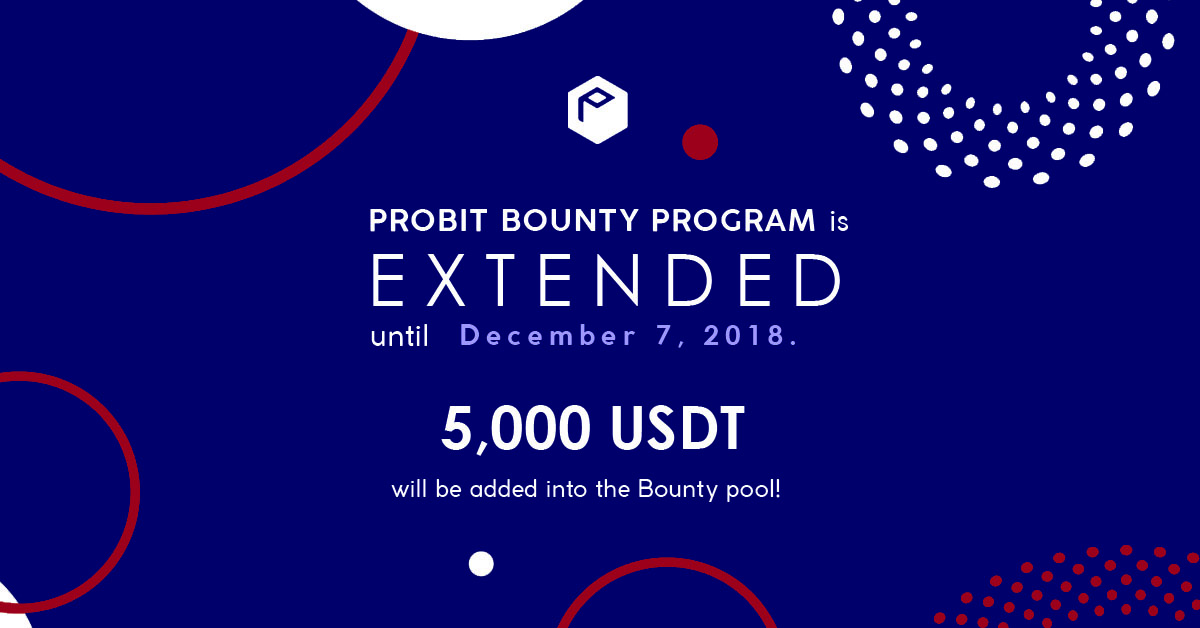 The Bounty Campaign has been extended to December 7, 2018, 9:00 am UTC. No new applications will be accepted and only current participants will have their contributions counted. The award pool has been adjusted accordingly to account for the extension.
------------------------------------------------------------------------------------------------------------- 
As part of the launch of the ProBit trading platform, ProBit will initiate a bounty campaign for registered users to promote ProBit on various media channels. The participants of the bounty campaign will be able to accumulate points that can be converted into rewards.
The campaign will launch on November 5, 2018, 12:00 am UTC and end on November 30, 2018, 9:00 am UTC.
Rewards
Bounty campaign participants will earn points for participation on various bounty programs (detailed below). During the campaign, participants will accumulate tickets to the lottery for the 100 EOS and weekly Samsung Galaxy S9. Details on the lottery can be found here. At the end of the campaign, the token rewards will be distributed based on the accumulated points for each participant.
Programs
Telegram - Bounty points can be earned by linking inviting other people into the ProBit Telegram channel.
Content - Bounty points can be earned by posting articles or videos on a major blogging site (e.g., Medium, Steemit) or video channel (YouTube).
Facebook - Bounty points are earned by sharing ProBit posts on Facebook.
Twitter - Bounty points are earned by retweeting ProBit posts.
See our page on Bitcoin Talk for further details: https://bitcointalk.org/index.php?topic=5060498 
Tracking
The tracking of the progress for the bounty program will be conducted via Bitcoin Talk. The rules and details will be posted there. The link for ProBit Exchange Bitcoin Talk page is here: https://bitcointalk.org/index.php?topic=5060498 
Questions?
For additional inquires or marketing opportunities, please reach out the Telegram moderators or email marketing@probit.com.